Zygonisia Cynosure Blue Birds orchid seedling - FREE SHIPPING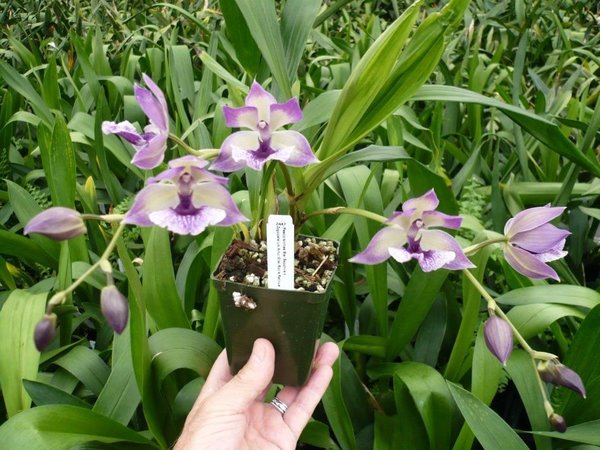 Zygonisia Cynosure Blue Birds orchid seedling - FREE SHIPPING
Easy to grow, easy to bloom and spectacularly beautiful, this orchid is a relatively new intergeneric hybrid called Zygonisia Cynosure 'Blue Birds.'

The flowers are wonderful and many are fragrant.

The breeding is Aganisia cyanea x Zygopetalum Skippy Ku.

We saw these for the first time in 2009, and we had to have some. There is one AM already, and the flower had a natural spread of 6.1 cm. It was 7.2 cm long, so these are nice-sized flowers.

These mericlone seedlings are in 3 inch pots, and we have a bunch of them. We always ship the largest. Grow these like an oncidium -- medium light, relatively warm, water thoroughly once a week or whenever they are almost dry; fertilize weakly every two weeks.
At The Orchid Gallery, we offer quality plants and friendly, personalized service. Our grower inspects every plant we ship.
About Shipping
We ship USPS Priority Mail or First Class Mail
We guarantee customer satisfaction on delivery.
If there's a problem, please contact us before leaving feedback.
We'll work it out with you, up to a full refund.
When you shop with The Orchid Gallery, you get:
The benefit of our 40 years experience with orchids
Our customer satisfaction guarantee
Our friendly customer service
The chance to ask questions and get free advice
A care sheet with almost every orchid, filled with growing tips
A quality plant, packed by professionals
A tracking number for every order