Zygonisia Cynosure 'Blue Birds' AM/AOS near blooming size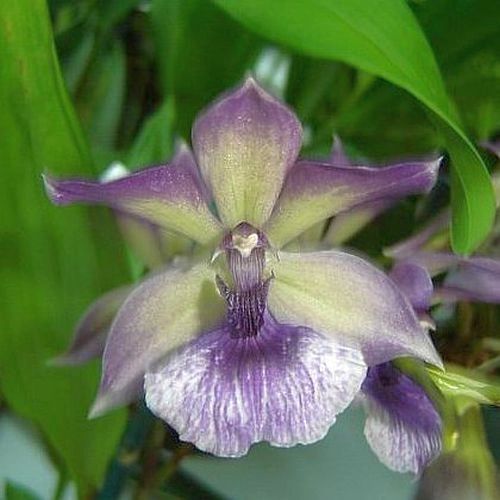 Zygonisia Cynosure 'Blue Birds' AM/AOS near blooming size
Zygos are native to tropical areas of South America, and they are really pretty easy to grow in the home.
This one is a large seedling in a 3-inch pot, and since these can bloom when quite small, we think they are near blooming size, likely to flower within 12 to 18 months or so if properly grown.
The breeding on this hybrid is Aganisia cyanea x Zygopetalum Skippy Ku.
These are mericlones of the awarded plant, which received 80 points and was described thusly in 2009: "Six flowers on two inflorescences produced from the base of a newly forming pseudobulb; flowers white; sepals and petals overlaid violet distally; lip heavily overlaid violet centrally, striped and spotted distally; column heavily overlaid violet, laterally winged near apex, anther cap white; substance firm; texture crystalline."
Bonus: Mildly fragrant at certain times of day.
We have a bunch of these and we'll pick out a nice one for you. NOT in flower now.
Need a heat pack? Check here:
 https://orchidgallery.biz/products/heat-pack-to-keep-your-orchid-order-warm-during-shipping1
Note: we include free growing instructions.
About Shipping
We ship USPS Priority Mail or UPS
We  guarantee customer satisfaction on delivery.
If there's a problem, please contact us before leaving feedback.
We'll work it out with you, up to a full refund.
When you shop with The Orchid Gallery, you get:
The benefit of our 40 years experience with orchids
Our customer satisfaction guarantee
Our friendly customer service
The chance to ask questions and get free advice
A care sheet with almost every orchid, filled with growing tips
A quality plant, packed by professionals
A tracking number for every order