Beallara Ysabella 'Lunar Eclipse' orchid blooming size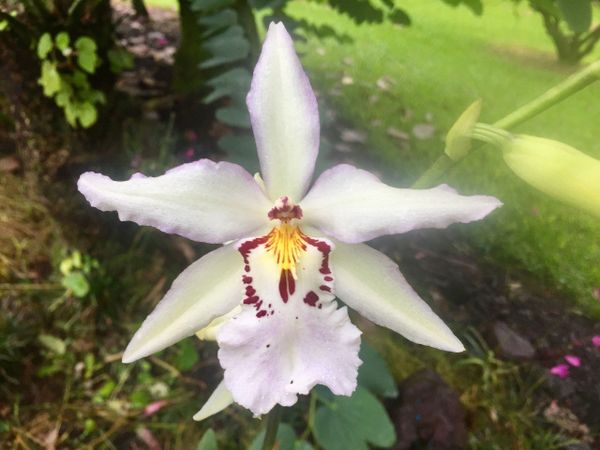 Beallara Ysabella 'Lunar Eclipse' orchid blooming size
NOT in flower now
Will bloom in season, next winter/spring
Flowers can be just stunning
This one will produce large and luxurious white flowers gilded with soft lavender and a splash of purple in the center. Beallara is a hybrid intergeneric with genes from the orchid genera Brassia, Cochlioda, Miltonia and Odontoglossum. Technically these are clones of Aliceara Winter Wonderand x Oncidium Forever Jubilee.
They start out mostly white when open but color increases over time. You will see multiple flowers on a long stem.

We will ship freshly repotted, so you won't need to worry about that chore until after the next blooming. We have a bunch of these and we'll pick out a nice one for you.
Ysabella is  a Spanish variant of Elizabeth.
These orchids come in a 4-inch pot, and they stand 18 to 24 inches high.
We include free growing instructions.
You can buy with confidence. We guarantee customer satisfaction upon delivery.
About Shipping
When you shop with The Orchid Gallery, you get:
A tracking number for every order
A quality plant, packed by professionals
A care sheet with almost every orchid, filled with growing tips
The chance to ask questions and get free advice
Our friendly customer service
Our customer satisfaction guarantee
The benefit of our 40 years experience with orchids
We  guarantee customer satisfaction on delivery.
We ship USPS Priority Mail or First Class Mail