Yes! Near blooming size Cymbidium Ming 'Emperor'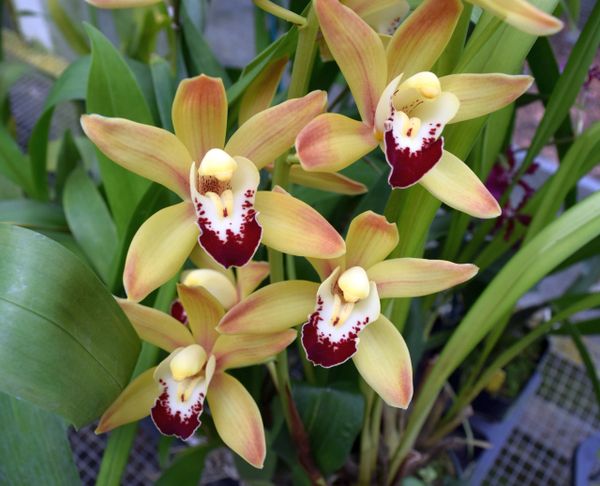 Yes! Near blooming size Cymbidium Ming 'Emperor'
The flower color on this one has been described as a lovely bronze-peach, with hints of rose and a burgundy lip.

Cymbidium Ming 'Emperor' is a warmth-tolerant cymbidium that can flower in the summer, and sometimes again in the late fall if the plant is a happy camper. These are mericlones of one that received an 81-point AM/AOS in 2018, if you're into that sort of thing.

These plants stand about18 inches high or a little more, and we always ship the largest. The flowers can last two to three months. We include free growing instructions.

Not in flower now. We think you can expect to see flowers in 12 to 18 months or so if properly grown.

The breeding is Cym. Oiso x Cym. Rusper. You can expect lots of flowers on a spike -- one mature award winner had 425 blooms on 17 inflorescences.
About Shipping
We ship USPS Priority Mail

We  guarantee customer satisfaction on delivery.
If there's a problem, please contact us before leaving feedback.
We'll work it out with you, up to a full refund.
When you shop with The Orchid Gallery, you get:
The benefit of our 40 years experience with orchids
Our customer satisfaction guarantee
Our friendly customer service
The chance to ask questions and get free advice
A care sheet with almost every orchid, filled with growing tips
A quality plant, packed by professionals
A tracking number for every order