Wilsonara (Oncidium) Habibi orchid - nicely started seedling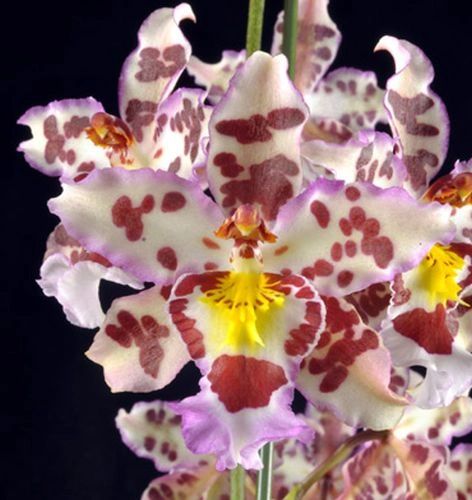 Wilsonara (Oncidium) Habibi orchid - nicely started seedling
* FREE shipping
* Super easy to grow, instructions included
* Will make colorful flowers, and lots of them
* Seedlings, NOT in flower now
This one is Wilsonara Habibi 'Pacific Pleasures,' an oncidium-type orchid that will put out long sprays of brightly colored flowers once it reaches blooming size. The breeding, if you're into that sort of thing, is Oncidium Nationhood X Oncostele Wildcat. 
You may also see it called an Oncostele, but who cares, they are always changing orchid names. 
The great thing about these orchids is that they grow so quickly and easily that just about everyone can be successful raising them.  They produce spectacular flowers with bright pink spots on a white background on upright to arching flower spikes
These orchids are nicely started seedlings, actively growing in 3-inch pots. We think they are likely to flower within 24 months or so.
We have a number of these and we'll pick out a nice one for you. These are easy to grow. Medium light and water are best, fertilize weakly twice a month.
You can buy with confidence. We guarantee customer satisfaction upon delivery. And we include free growing instructions. 
At The Orchid Gallery, we offer quality plants and friendly, personalized service. Our grower inspects every plant we ship.   
We ship USPS
We guarantee customer satisfaction on delivery.
When you shop with The Orchid Gallery, you get:
The benefit of our 40 years experience with orchids
Our customer satisfaction guarantee
Our friendly customer service
The chance to ask questions and get free advice
A care sheet with almost every orchid, filled with growing tips
A quality plant, packed by professionals
A tracking number for every order