Sale Very cool! Vanda Pachara Delight hybrid blooming size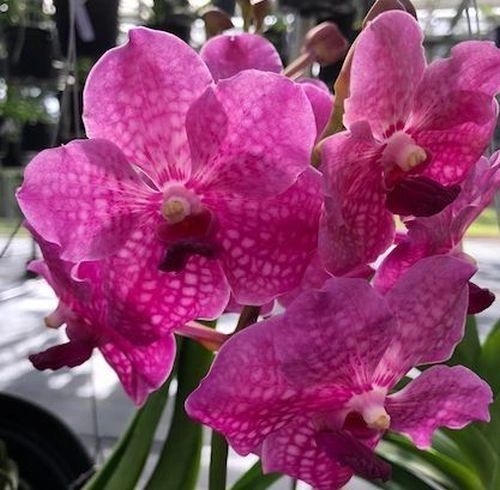 Sale Very cool! Vanda Pachara Delight hybrid blooming size
FREE shipping
This one is Vanda Pachara Delight x V. Sankamphaeng, a blue crossed with a yellow, tending to produce pink flowers. Of course, your mileage may vary, as these are seed crosses. A purple is possible, so just be aware.
These are big plants, well-established in 5-inch plastic pots. They have good root systems (no media, so water daily) and they stand about a foot high or more.
Quantities are very limited, so it's first-come, first served. Pachara Delight has some V. Gordon Dillon in the background, so expect some good tessellations on the flowers. Could flower anytime now.

Vandas are VERY tropical and require bright light, warm temperatures and almost daily watering.
About Shipping
We ship USPS Priority Mail or First Class Mail
We  guarantee customer satisfaction on delivery.
If there's a problem, please contact us.
We'll work it out with you, up to a full refund.
When you shop with The Orchid Gallery, you get:
The benefit of our 40 years experience with orchids
Our customer satisfaction guarantee
Our friendly customer service
The chance to ask questions and get free advice
A care sheet with almost every orchid, filled with growing tips
A quality plant, packed by professionals
A tracking number for every order