Vanda Dr. Anek X Kulveeve Fragrance in spike now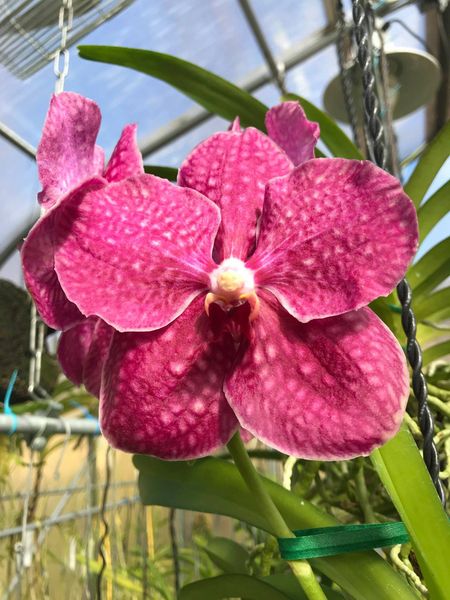 Vanda Dr. Anek X Kulveeve Fragrance in spike now
Let's see, Dr. Anek, a red vanda, crossed with a hybrid of two blue vandas. What will you get?
That's anybody's guess. We think some will come out purple, some red and some blue. But we've seen a few of these bloom now,  and they have all been a very pretty pink with darker spots and lovely tessellations. although a couple of them could surprise us. 
We also think that given the parents, they will have lovely tessellations and all will be quite beautiful.
The breeding is as stated. These are nice plants established in 4-inch hanging baskets. We ship with the wire hanger.

We love vandas because you never need to repot them and they produce some of the most magnificent orchid flowers, often in amazingly vivid colors. The flower pictures show two of the parents.

Please be prepared to water at least every other day. They are generally considered to require warm temperatures. No direct sunlight, but dappled light is OK. We include free growing instructions. We think you can expect a first flowering in 18 to 24 months if properly grown.

About Shipping
We ship USPS Priority Mail or First Class Mail
We  guarantee customer satisfaction on delivery.
If there's a problem, please contact us before leaving feedback.
We'll work it out with you, up to a full refund.
When you shop with The Orchid Gallery, you get:
The benefit of our 40 years experience with orchids
Our customer satisfaction guarantee
Our friendly customer service
The chance to ask questions and get free advice
A care sheet with almost every orchid, filled with growing tips
A quality plant, packed by professionals
A tracking number for every order