Vanda Robert's Delight 'Black' blooming size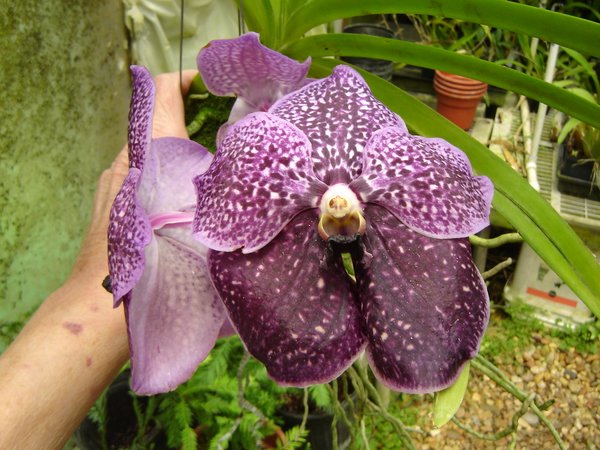 Vanda Robert's Delight 'Black' blooming size
* Vanda Kasem's Delight x Vanda Madame Rattana
* FREE Shipping
* Blooming size but not in flower now
Sometimes you make a hybrid and you just strike paydirt. That's the case with Vanda Robert's Delight, which depending on how the genes get mixed together, comes out red, or raspberry, or purple, or vibrant blue, or, in this case, blue with parts of the lip so dark they almost appear black. Hence the name.
These are blooming size clones of one of the nicer 'Blacks' around, actively growing in 4-inch plastic baskets. Big plants, 18-inch leaf span, in 4-inch hanging baskets. Well established root systems.
Likely to bloom this summer if properly grown.
These like bright indirect light or even some morning sun. Water daily, as they are tropical rain forest plants and in the wild they get a shower every day. We love vandas because you never have to repot.
These can bloom several times a year if the happiness quotient is high.
About Shipping
We ship USPS Priority Mail or First Class Mail
We

guarantee customer satisfaction on delivery.
When you shop with The Orchid Gallery, you get:
The benefit of our 40 years experience with orchids
Our customer satisfaction guarantee
Our friendly customer service
The chance to ask questions and get free advice
A care sheet with almost every orchid, filled with growing tips
A quality plant, packed by professionals
A tracking number for every order