Vanda Mimi Palmer small seedling in hanging basket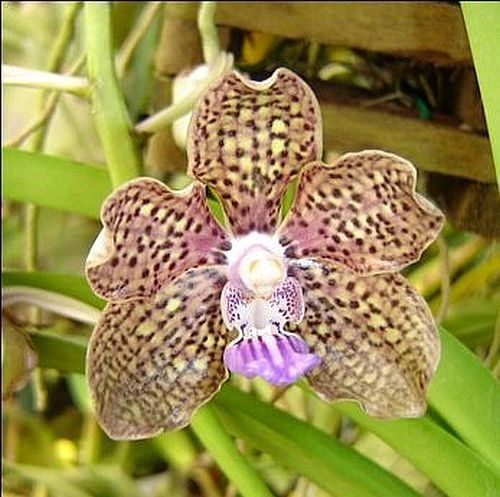 Vanda Mimi Palmer small seedling in hanging basket
This is one of our all-time favorite vandas, because the flowers are lovely and they are lightly fragrant.
The breeding is Vanda Tan Chay Yan x Vanda tessellata.
It's a golden oldie, first registered in 1963.
These are seedlings, freshly placed in 4-inch plastic baskets. The leafspan at this early stage is 4 to 6 inches or so. We always ship the largest.
Of course, they come with the wire hanger. Probably two years from first blooming, but well worth the wait if you know how to grow them. Water nearly every day, thoroughly. Vandas are native to rainforests, so in the wild they never lack for water.
About Shipping
We ship USPS Priority Mail or First Class Mail
We  guarantee customer satisfaction on delivery.
If there's a problem, please contact us before leaving feedback.
We'll work it out with you, up to a full refund.
We may delay shipping if it's too cold where you are.
When you shop with The Orchid Gallery, you get:
The benefit of our 40 years experience with orchids.
Our customer satisfaction guarantee.
Our friendly customer service.
The chance to ask questions and get free advice.
A care sheet with almost every orchid, filled with growing tips.
A quality plant, packed by professionals.
A tracking number for every order.