Three tropical Alocasia Black Velvet plugs, ready to pot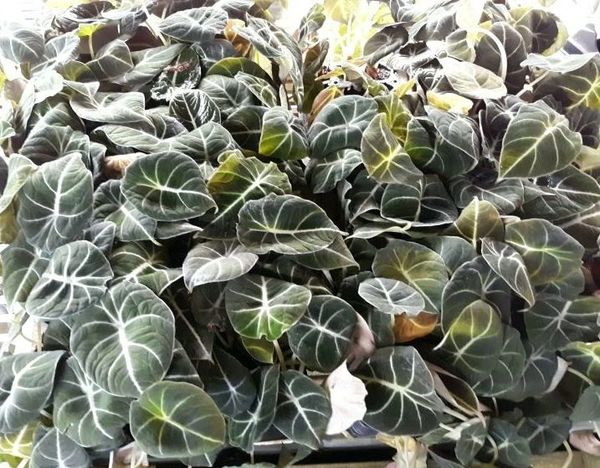 Three tropical Alocasia Black Velvet plugs, ready to pot
Free shipping
Super easy to grow
Lovely foliage
Patterned dark green leaves
These are tropical plant plugs, right from the grow tray, ready to pot up. You could put all three in one larger pot, or put each one into a 3- or 4-inch pot.
Alocasia Black Velvet is named for the dark green (not actually black) leaves, which feature attractive patterning. Technically these are Alcoasia reginula.
These make great house plants. 
Height at maturity: 1-2 feet 
Light: Full shade to part shade 
Soil: Well-drained, moderately dry (drier at night).  Can be grown outdoors in tropical climates, but don't let them burn up in high heat. 
 Makes an excellent terrarium plant The leaves are 3 to 4 inches long already, and they are actively growing.  Remember, grow these in moderate shade or low light. You are purchasing one package of three plants.
We ship USPS or UPS
We  guarantee customer satisfaction on delivery.
If there's a problem, please contact us before leaving feedback.
We'll work it out with you, up to a full refund.
We may delay shipping if it's too cold where you are
When you shop with The Orchid Gallery, you get:
The benefit of our 40 years experience with orchids and plants
Our customer satisfaction guarantee
Our friendly customer service
The chance to ask questions and get free advice
A care sheet with almost every orchid, filled with growing tips
A quality plant, packed by professionals
A tracking number for every order