The Samurai Orchid, Vanda (Neofinetia) falcata, blooming size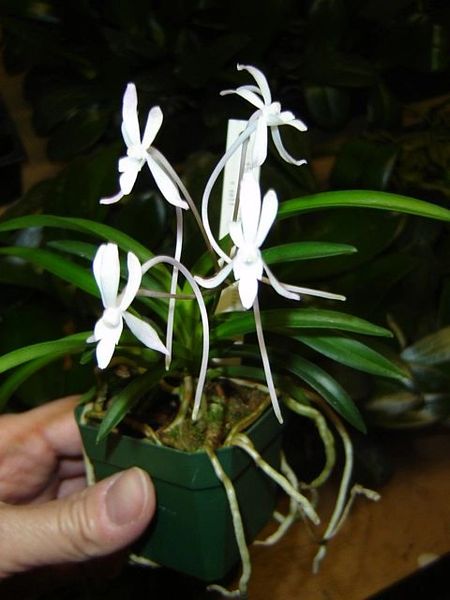 The Samurai Orchid, Vanda (Neofinetia) falcata, blooming size
Neofinetia falcata is now Vanda falcata. That doesn't change the fact that it is one of the most marvelous true miniatures in cultivation. It is also called the Samurai orchid or the Japanese Wind Orchid. It has been prized by the Japanese warriors and the elite for many hundreds of years. At one time it was illegal for anyone except a Samurai warrior to own one. Now we can all grow this true gem. 
It rarely has a leaf span of more than 4 inches, but forms big clusters quickly. The pure white flowers are an inch or more tall, shaped like an oriental character and have a nectar spur often 3 times the length of the sweetly fragrant flower. Their blooming season is summer to fall. Grow them much like a Phalaenopsis.
These all have several growths in the pot and should bloom in season. Get yours before they do.
We ship USPS or UPS usually within 1 or 2 business days.
We  guarantee customer satisfaction on delivery.
If there's a problem, please contact us.
We want you happy and successful.
When you shop with The Orchid Gallery, you get:
The benefit of our 50 years experience with orchids
Our customer satisfaction guarantee.
Our friendly customer service.
The chance to ask questions and get free advice.
A care sheet with almost every orchid, filled with growing tips.
A quality plant, packed by professionals.
A tracking number for every order.