Stanhopea jenischiana, Weird and Wonderful, Blooming Size, Shipping Included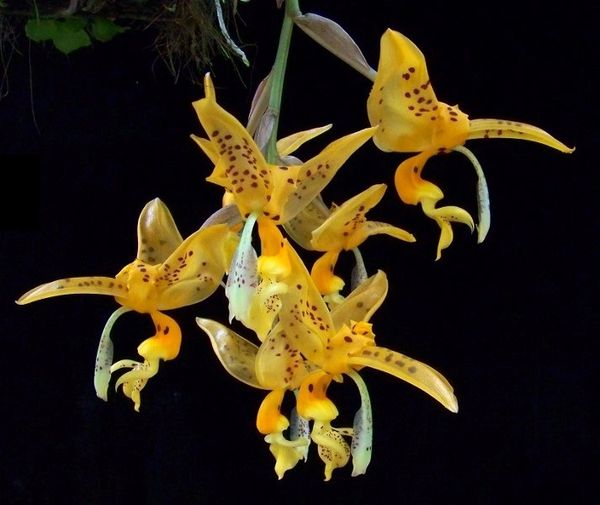 Stanhopea jenischiana, Weird and Wonderful, Blooming Size, Shipping Included
For you folks who like the weird ones: Stanhopea jenischiana. The good news is these are spectacular with flowers up to 6 inches across in clusters with as many as 6 individual flowers. The bad news is that they are short lived, but mature growths can produce multiple spikes over a month or two. They have an interesting fragrance. They prefer intermediate conditions temps from 60 to 80. The light should be bright but not a lot of direct sun or the leaves will bleach or burn.  Keep them moist and fertilize every couple of weeks with a balance fertilizer. These are in 5 inch hanging baskets because the spikes emerge form the bottom of the basket and hang down. Some folks grow them mounted but we like baskets best.
Several times a year we import plants just to get some unusual things for our customers. This is one of those.  They have good roots and look good. There are a few blemishes on the foliage but this is typical. Usually we wait a couple of months before offering imported plants to make sure they will grow okay, but these look so good we decided to offer them now. 
We ship USPS or UPS usually within 1 or 2 business days.
We  guarantee customer satisfaction on delivery.
If there's a problem, please contact us.
We want you happy and successful.
When you shop with The Orchid Gallery, you get:
The benefit of our 50 years experience with orchids
Our customer satisfaction guarantee.
The chance to ask questions and get free advice.
Our friendly customer service. A care sheet with almost every orchid, filled with growing tips.
A quality plant, packed by professionals.
A tracking number for every order.