Paph. pair, Red Wine, Key Lime. In Bud $65.00 Save 25.00 Free Shipping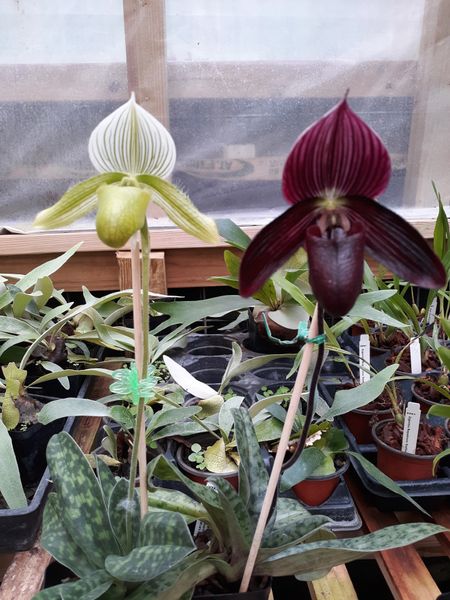 Paph. pair, Red Wine, Key Lime. In Bud $65.00 Save 25.00 Free Shipping
One Vini/contrast and one alba, in bud in 3 1/2 inch pots. These should be in flower in 2 or 3 weeks and they last as long a 3 months.
Grow these in bright indirect light, in a temperature range of 55 to 85 degrees. Try not to let them dry out completely, but don't keep them sopping wet. Fertilize twice a month. his was a special purchase and we can pass the savings along. 
Of course you will need to repot after they finish blooming but you saved $25.00.
We include free growing instructions. 
About Shipping
We ship USPS or UPS depending on which provides the best service to your address
When you shop with The Orchid Gallery, you get:
A tracking number for every order
A care sheet with almost every orchid, filled with growing tips
A quality product and the chance to ask questions and get free advice
Our friendly customer service
The benefit of our 40 years experience with orchids
We  guarantee customer satisfaction on delivery