Sparkling Dichroic glass post earrings, light refracting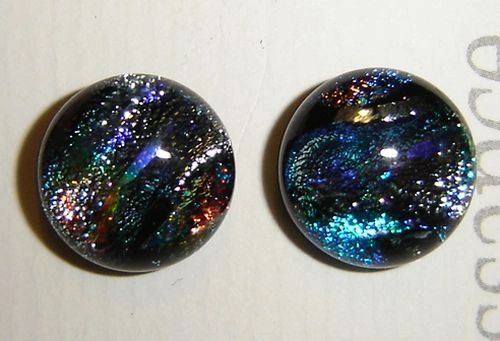 Sparkling Dichroic glass post earrings, light refracting
FREE SHIPPING

These post earrings for pierced ears are just really beautiful.
The luminous, reflective glass is painstakingly made by hand by our friends at Renaissance Glass Studio in North Carolina. 
The glass portion of these earrings is about 5/8ths of an inch in diameter. Not too big, not too small. We think they will bring in lots of compliments on your good taste.

Dichroic  glass displays two or more different colors by undergoing a color change in certain lighting conditions. No two pieces are exactly the same.
How are these made? Glass sheets are coated with a microscopic layer of metal oxides. This coating acts as a prism and splits the light into brilliant colors. Since no dyes or pigments are used, 90 percent of the light returns to your eye as pure color. This explains the luminous color and unusual brilliance. The glass also displays multiple colors depending on the angle of the light entering the sheet. This creates the dance of colors unique to each piece. In nature, this effect is found in rainbows, birds, insects and even minerals - - especially opals.
The glass is fired in special kilns to just under 1500 degrees for 12 hours.
We ship USPS First Class Mail with a tracking number, for delivery in 2 to 4 days.

They come in a gift box, of course. They really are exquisite. And they come with a plastic stopper for the silver post on the back side.

At The Orchid Gallery, we're more than great plants. We also carry a line of popular jewelry as well as a nice selection of Christmas items. And we're adding inventory every day.