Somewhat rare, blooming size Paph Ho Chi Minh orchid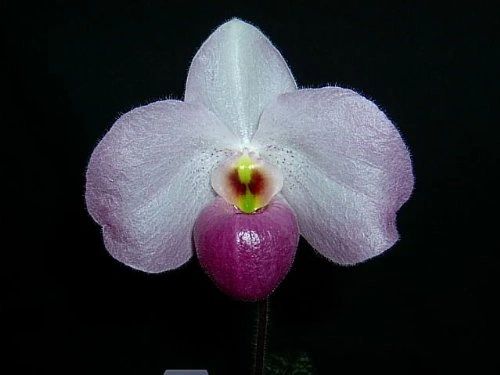 Somewhat rare, blooming size Paph Ho Chi Minh orchid
Will make stunning flowers

Easy to grow, free care sheet included

Rare ladyslipper orchid

Likely to flower within 12 to 18 months

Blooming size, but NOT in flower now
This one is Paph Ho Chi Minh -- Paph vietnamense x Paph delenatii. The flowers that we have seen are simply stunning -- large and beautifully colored. The better ones have pouches the color of a black cherry Tootsie Roll Pop, with a luminous rose on the petals and sepals.
The first picture is one that we bloomed out a year or so ago. The second picture is the kind of plant you are purchasing. These are blooming size and could bud anytime in the next 12 to 18 months. They can bloom when quite small. The foliage is beautifully patterned, too.
It has one growth and a leaf span of about 8 or 9 inches.
We always ship the largest. This is a quality orchid that will give you very rewarding flowers. It is easy to grow and you can care for it in the house. Just provide relatively low light, water several times a week, and fertilize weakly every couple of weeks. We have a bunch of these and we'll pick out a nice one for you.
About Shipping
We ship USPS Priority Mail or First Class Mail
We  guarantee customer satisfaction on delivery.
If there's a problem, please contact us before leaving feedback.
We'll work it out with you, up to a full refund.
When you shop with The Orchid Gallery, you get:
The benefit of our 40 years experience with orchids
Our customer satisfaction guarantee
Our friendly customer service
The chance to ask questions and get free advice
A care sheet with almost every orchid, filled with growing tips
A quality plant, packed by professionals
A tracking number for every order