Onc. Sharry Baby 'Sweet Fragrance' chocolate orchid, blooming size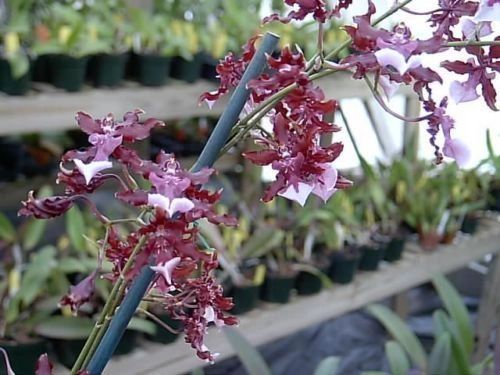 Onc. Sharry Baby 'Sweet Fragrance' chocolate orchid, blooming size
FREE Shipping
This is it. Yum! Sharry Baby is THE classic chocolate orchid, the one that exudes Eau de Godiva and can fill a small room with the fragrance of a freshly opened box of chocolates.
These have reached near blooming size (not in flower now), in 4-inch pots. Two nice growths. We expect you'll see flowers in 12 to 14 months, if not sooner. 
The great thing about these orchids is that they grow so quickly and easily that just about everyone can be successful raising them. AND they bloom several times a year once they reach blooming size. The flowers will arch gracefully on a long stem. It's a great plant for beginners, and chocolate lovers of all kinds.
You can buy with confidence. We guarantee customer satisfaction upon delivery. And we include free growing instructions.
These are easy to grow. Medium light and water are best, fertilize weakly twice a month. We have a bunch of these and we'll pick out a nice one for you. Mature plants in spike go for $50.
At The Orchid Gallery, we offer quality plants and friendly, personalized service. Our grower inspects every plant we ship.

About Shipping
We ship USPS Priority Mail or UPS

We  guarantee customer satisfaction on delivery.
If there's a problem, please contact us before leaving feedback.
We'll work it out with you, up to a full refund.
When you shop with The Orchid Gallery, you get:
The benefit of our 40 years experience with orchids
Our customer satisfaction guarantee
Our friendly customer service
The chance to ask questions and get free advice
A care sheet with almost every orchid, filled with growing tips
A quality plant, packed by professionals
A tracking number for every order