Set of six exquisite cloisonne Christmas tree ornaments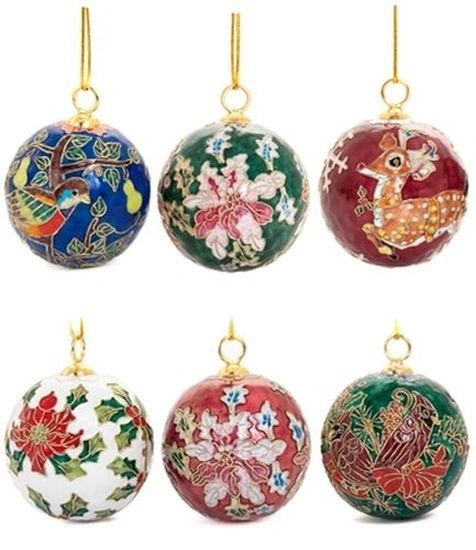 Set of six exquisite cloisonne Christmas tree ornaments
Free Shipping
Set of six exquisite, hand-crafted, cloisonné Christmas tree ornaments, in assorted colors and designs.
Hand enameled, on copper. Each comes with a gold-tone cord for hanging on the tree or decorating a wreath.
Each ornament is abut 2.5 inches in diameter, and you get one of each design. The color panels are separated by gold plating.
There's a reindeer, a cardinal, a bluebird and several floral patterns, including a poinsettia.
We think these will become family keepsakes, brought out at the holidays for years to come. Each ornament comes in its own little box for easy storage.

Cloisonné is an ancient technique for decorating metal objects -- in recent centuries using enamel and in older periods using inlays of cut gems, glass and other materials. The resulting art forms can also be called cloisonné. The decoration is formed by first adding compartments (cloisons in French) to the metal object by soldering or otherwise adhering silver or gold wires. These remain visible in the finished piece, separating the different compartments of the enamel or inlays, which are often of several colors. Enamel is applied, and the artwork is then fired in a kiln. Skilled artists can create wonderful designs.