Seedling, Paph Pinocchio, 'the ever-blooming paph' ladyslipper orchid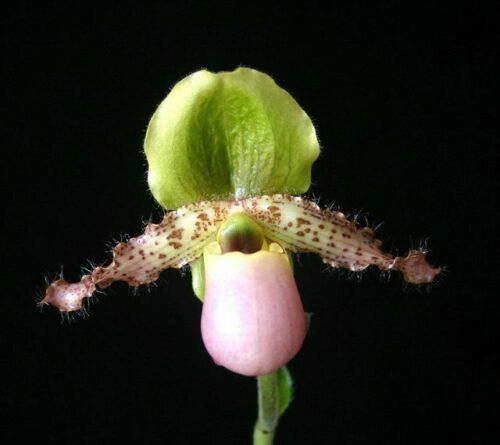 Seedling, Paph Pinocchio, 'the ever-blooming paph' ladyslipper orchid
Free growing instructions
Will produce lovely ladyslipper flowers
Good beginner orchid
Seedling size, not in flower now

This is absolutely one of our favorite primary hybrid paphs, and you can see why.
We love it because the flowers are very pretty (and we mean VERY pretty) and because once it starts blooming, it's a sequential orchid that keeps putting out one flower after another.
Some of our customers call these "the ever-blooming paph." The green and pink and white flowers last three to four weeks, then fade away to make room for the next bud to open. Mature plants can produce flowers almost continuously.

The breeding here is glaucophyllum x primulinum.
These seedlings were bred from superior parents and just came out of a compot and were repotted in 3-inch pots.
We expect to see flowers in roughly 24 months if properly grown.

The first picture shows a Pinocchio flower; the second shot shows the kind of plant you are purchasing. We have a bunch of these and we always ship the largest. 

These are not hard to grow and you can care for them in the house.
Just provide relatively low light, water several times a week, and fertilize weakly every couple of weeks. Repot once a year. Use distilled water twice a month to wash away any salts that build up in the mix from the use of tap water or well water.
About Shipping
We ship USPS Priority Mail or First Class Mail
We  guarantee customer satisfaction on delivery.
If there's a problem, please contact us before leaving feedback.
We'll work it out with you, up to a full refund.
When you shop with The Orchid Gallery, you get:
The benefit of our 40 years experience with orchids
Our customer satisfaction guarantee
Our friendly customer service
The chance to ask questions and get free advice
A care sheet with almost every orchid, filled with growing tips
A quality plant, packed by professionals
A tracking number for every order