Cattleya Cosmos 'Laina' AM/AOS seedling, cherry red flowers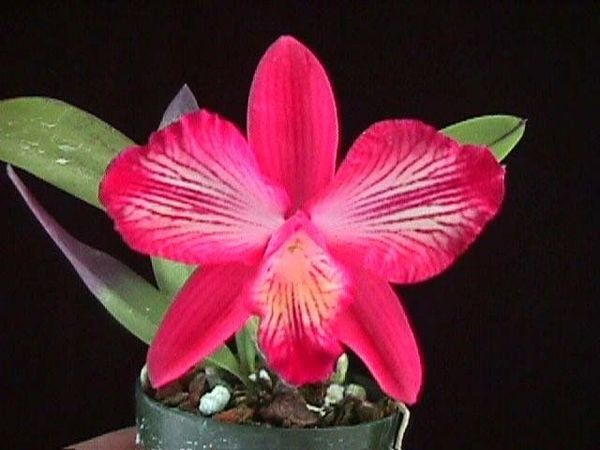 Cattleya Cosmos 'Laina' AM/AOS seedling, cherry red flowers
FREE SHIPPING
But no shipping into sub-freezing cold
The flowers on these puppies look almost good enough to eat!
Cosmos is in the cattleya family and the breeding is Cattleya coccinea x Cattleya Cherry Chip. The latter is Cattleya Angelwalker x Cattleya intermedia.

Cosmos is a miniature, and can flower when quite small. This is a clone of the 81-point award winner.
The judges had this to say about the flower: "One round, full flower and one bud on two inflorescences; sepals cerise; petals cream-colored, overlaid with cerise on inner portions with darker cerise veins to solid cerise outer portions; lip cream-colored centrally with dark cerise veins to near solid distal portion; column white; substance good; texture of sepals diamond dust, petals velvety."
These make great windowsill plants, as they won't get too big. They are in two-inch pots at present; you could move up to 3-inch if you like. We always ship the largest. We think you can expect flowers in 12 to 18 months, but of course it's an orchid, so it has a mind of its own.
Did we say free shipping?

About Shipping
We ship USPS Priority Mail or First Class Mail
We  guarantee customer satisfaction on delivery.
We'll work it out with you, up to a full refund.
We may delay shipping if it's too cold where you are
When you shop with The Orchid Gallery, you get:
The benefit of our 40 years experience with orchids
Our customer satisfaction guarantee
Our friendly customer service
The chance to ask questions and get free advice
A care sheet with almost every orchid, filled with growing tips
A quality plant, packed by professionals
A tracking number for every order