Brassavola nodosa, Lady of the Night orchid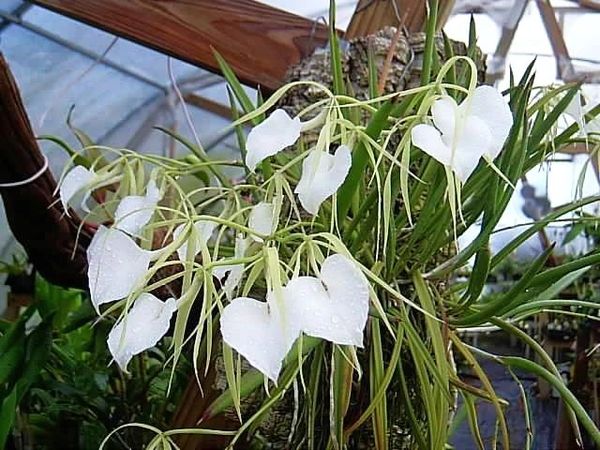 Brassavola nodosa, Lady of the Night orchid
We adore Brassavola nodosa, the Lady of the Night orchid, because the scent reminds us of Chanel No. 5 and a few of the green and white flowers can fill a small  room with the fragrance.
These are seedlings, but truth be told nodosa can bloom at almost any size. A large plant can have dozens of flowers.
Brassavola nodosa, in the cattleya family, is native to areas of Mexico, Central America, the West Indies and northern South America.
The genus Brassavola was named for the Italian botanist Antonio Brassavola.
These plants are freshly repotted in 3-inch pots, so you won't need to worry about that for a while. We have a bunch of these and we'll pick out a nice one for you.

These do very well mounted, if they get sufficient water.
We include free growing instructions. We ship UPS or USPS and we guarantee safe delivery.
About Shipping
We ship USPS Priority Mail or UPS
We  guarantee customer satisfaction on delivery.
If there's a problem, please contact us before leaving feedback.
We'll work it out with you, up to a full refund.
We may delay shipping if it's too cold where you are
When you shop with The Orchid Gallery, you get:
The benefit of our 40 years experience with orchids
Our customer satisfaction guarantee
Our friendly customer service
The chance to ask questions and get free advice
A care sheet with almost every orchid, filled with growing tips
A quality plant, packed by professionals
A tracking number for every order