Sale! Baby Vanilla planifolia in 2-inch pot, fast grower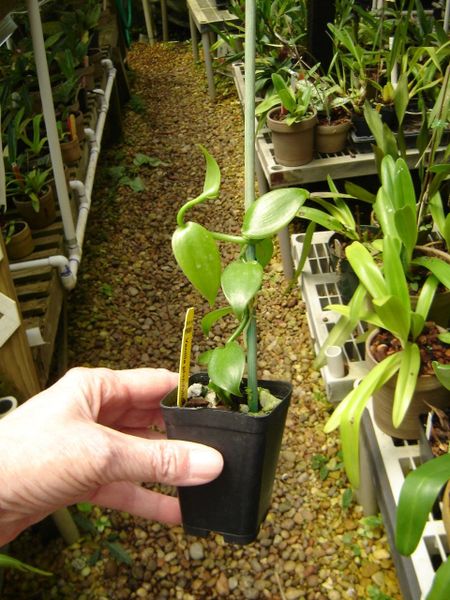 Sale! Baby Vanilla planifolia in 2-inch pot, fast grower
Free Shipping

Easy to grow, instructions included
This tropical orchid plant is a vining and climbing terrestrial variety that roots in soil or moss, unlike most orchids. They are native to Central America and the West Indies. This is the monocolor variety, with solid green leaves. Our babies are in two-inch pots. They are roughly10 to 12 inches high measured from the top of the pot.

These start off in a small pot with the base roots in sphagnum or orchid seedling mix. Stake them as they grow so the vine has something on which to climb. These do well as house plants - they need bright indirect light, some humidity and a trellis or something to grow up on, but basically they grow like weeds. And they can be grown outdoors in warmer, moist climates.

We always ship the largest. And we include free growing instructions.

Keep this plant warm - above 55 degrees - and fertilize weakly about once a month. Keep them damp but not sopping wet. These like to be misted, as they have roots all along the vine. They flower only when mature, which takes a few years. The vines need to be at least 12 feet long. And it is possible to get a vanilla bean, but it's not easy - the yellowish-greenish flowers need to be pollinated by hand at the right moment. Vanilla extract is made from the seeds in a seed pod from mature plants.
You can propagate these by taking cuttings, however. Mature plants can get very big and have literally hundreds of flowers. We have a bunch of these and we'll pick out a nice one for you.
We guarantee customer satisfaction upon delivery.
CAUTION: NO shipping to any locations where the high temps for the day are below 32 degrees. The plants will freeze and die, even with a heat pack.
If your lows are above 25 degrees and your highs are in the 30s or low 40s, we recommend you buy a 72-hour heat pack to keep your plants warm enroute. We ship USPS, which takes two to three days.
About Shipping



We ship USPS Priority Mail

We  guarantee customer satisfaction on delivery.

If there's a problem, please contact us before leaving feedback.

We'll work it out with you, up to a full refund.

When you shop with The Orchid Gallery, you get:

The benefit of our 40 years experience with orchids

Our customer satisfaction uarantee

Our friendly customer service

The chance to ask questions and get free advice

A care sheet with almost every orchid, filled with growing tips

A quality plant, packed by professionals

A tracking number for every order