Rlc Williette Wong Near Blooming Size Cattleya Orchid, Fantastic Color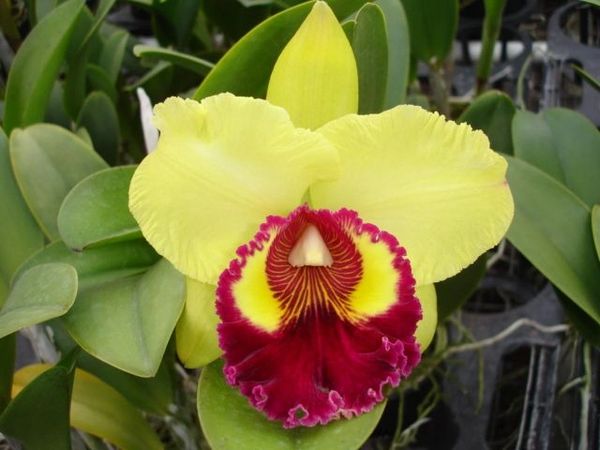 Rlc Williette Wong Near Blooming Size Cattleya Orchid, Fantastic Color
An easy to grow orchid

Flowers will be bright yellow, red lip

In the Cattleya family

Near blooming size, but NOT in flower now

Free growing tips included
These should be just beautiful, with bright yellow flowers and a stunning red lip. These are clones of Blc Williette Wong 'The Best' AM/AOS.
The breeding is Rlc. Tassie Barbero x Rlc. Toshie Aoki.
The judges had this to say about the award winner: "Two flowers on 1 inflorescence; one flower almost perfectly formed, the other slightly cupped; sepals and petals bright lemon yellow with slight red flaring at the tip, more prominent on sepals; lip lemon yellow at base, strongly overlaid with dark fuchsia, showing prominent yellow veins around column and same color in prominent eyes half the distance between the column and the margin of the side lobes; column white with slight yellow fringe; substance better than average; texture sparkling ..."
The natural spread was 14.7 cm -- almost six inches! These orchids are in 4-inch pots and the longest leaves are 6 to 7 inches or more. We think they are 12 to 14 months from first flowering, which is our definition of near blooming size. Freshly repotted. These like bright indirect light. Allow to get dry or almost dry between waterings. Cattleyas are good beginner orchids as they can stand a little abuse. We have a bunch of these and we'll pick out a nice one for you. We always ship the largest plant.
And we include free growing instructions. You can buy with confidence. We guarantee customer satisfaction upon delivery. We ship USPS or UPS, and you'll get a tracking number.