Rlc. (cattleya) Hsinying Greenworth, blooming size orchid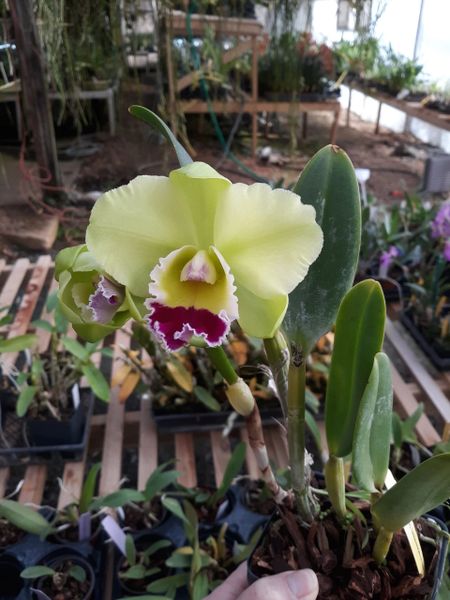 Rlc. (cattleya) Hsinying Greenworth, blooming size orchid
FREE Shipping

Will make lovely flowers
Easy to grow, instructions included
NOT in flower now, expect blooms in 12 to 14 months or so
Will produce stunning yellow-green and red flowers
Great windowsill plant

This one makes lovely, large flowers (four inches across or more) with amazing flowers.
Really pretty. And fragrant.
The breeding is Rhyncholaeliocattleya Yen Surprise x Rhyncholaeliocattleya Varut Greenworth, if you're into that sort of breeding thing. As for us, we just like the flowers.
These came to us in a large wholesale order. This is a photo of the first one to bloom and we are impressed.
We have a bunch of these and we'll pick out a nice one for you. We always ship the largest.
We will ship freshly repotted so you won't need to worry about that chore for one to two years.
Cattleyas like these are easy to grow, and very rewarding.  Good plants for beginners as they can take a little abuse. We include free growing instructions. You pretty much can't go wrong.  



CAUTION DURING EXTREME COLD PERIODS CONSIDER BUYING A HEAT PACK TO PROTECT YOUR PLANTS, AT TIMES WE MAY HAVE TO DELAY SHIPPING SHIPPING FOR A FEW DAYS IF TEMPS ARE TOO EXTREME.

About Shipping

We ship USPS Priority Mail

We  guarantee customer satisfaction on delivery.

If there's a problem, please contact us before leaving feedback.
We'll work it out with you, up to a full refund.

When you shop with The Orchid Gallery, you get:

The benefit of our 40 years experience with orchids
Our customer satisfaction guarantee
Our friendly customer service
The chance to ask questions and get free advice
A care sheet with almost every orchid, filled with growing tips
A quality plant, packed by professionals
A tracking number for every order