Rlc. Anna Saeki 'Volcano Queen' nicely started seedling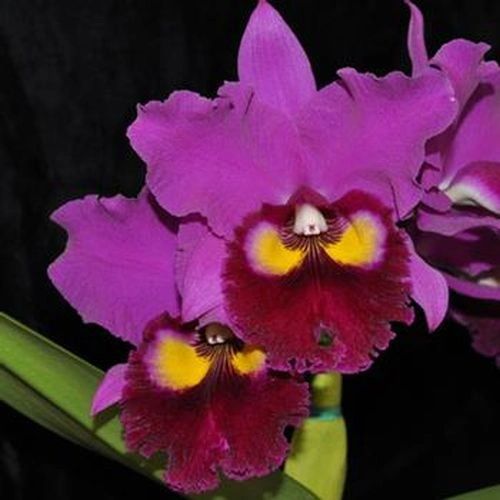 Rlc. Anna Saeki 'Volcano Queen' nicely started seedling
Seedling size, 2-inch pot

Easy to grow, instructions included
Will produce beautiful flowers
Great windowsill plant

A member of the cattleya family, the breeding here is Rhyncholaeliocattleya Orglade's Crescent x Rhyncholaeliocattleya Sweet Anniversary.

We're going to take a wild stab here and guess that awards are possible. You may also see it as a
Brassolaeliocattleya, but who cares, they're always changing orchid names.
Just grow it up and enjoy when it blooms. Richly colored, with two yellow eyes. Probably 2.5 to 3 years from first flowers, but well worth the wait.
Will make a nice addition to your collection. And here's a bonus: It should be nicely fragrant.
It's relatively new, first registered in 2004

These are nicely started seedlings, recently moved from the grow tray into two-inch pots. We have a bunch of these and we always ship the largest.

These are easy growers. Allow to dry almost completely between waterings. Morning sun and then bright shade. Fertilize weakly every few weeks. A mature plant like this in full bloom at an orchid show would cost $60 or more.
About Shipping
We ship USPS Priority Mail or First Class Mail
We  guarantee  customer satisfaction on delivery.
If there's a problem, please contact us before leaving feedback.
We'll work it out with you, up to a full refund.
When you shop with The Orchid Gallery, you get:
The benefit of our 40 years experience with orchids
Our customer satisfaction guarantee
Our friendly customer service
The chance to ask questions and get free advice
A care sheet with almost every orchid, filled with growing tips
A quality plant, packed by professionals
A tracking number for every order