Rhyncholaeliocattleya (Rlc.) Ports of Paradise orchid seedling FCC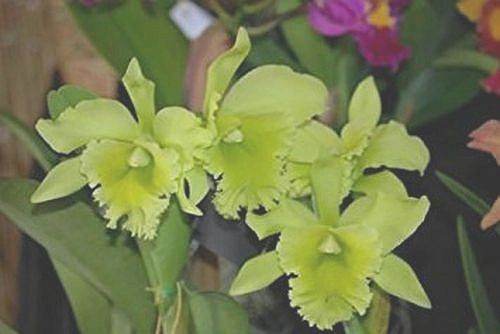 Rhyncholaeliocattleya (Rlc.) Ports of Paradise orchid seedling FCC
FREE growing instructions and FREE shipping
Nicely started seedling, but NOT in flower now
Will produce simply stunning flowers

This one makes lovely, large, green flowers with a ruffled lip.  Really pretty. The cultivar is 'Emerald Isle' FCC/AOS.

It's an oldie but a goodie, first registered by the old Stewart Orchids back in 1970.

The breeding on this fragrant mericlone is Rhyncholaeliocattleya Fortune x Rhyncholaelia digbyana. The judges described the award winner this way: "Two flowers with pale lime-green sepals, one stem; lip chartreuse with central portion of lip intense darker chartreuse." The natural spread was 16 cm.

This is a seedling in a 3 inch pot, probably two years from first flowering if properly grown, but worth the wait.

Freshly repotted. We have a bunch of these and we'll pick out a nice one for you.

Cattleyas like these are easy to grow, and very rewarding.  Good plants for beginners. We include free growing instructions. You pretty much can't go wrong.

About Shipping

We ship USPS Priority Mail or UPS.

We  guarantee customer satisfaction on delivery.

If there's a problem, please contact us before leaving feedback.

We'll work it out with you, up to a full refund.

 

When you shop with The Orchid Gallery, you get:

The benefit of our 40 years experience with orchids

Our customer satisfaction guarantee

Our friendly customer service

The chance to ask questions and get free advice

A care sheet with almost every orchid, filled with growing tips

A quality plant, packed by professionals

A tracking number for every order.