Red bulldog Paph John Hainsworth blooming size orchid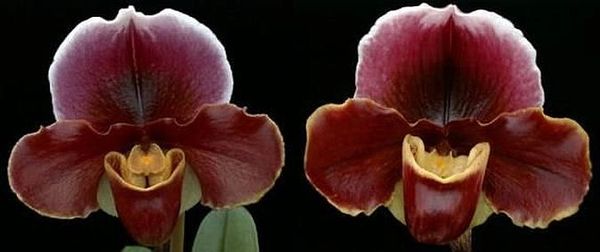 Red bulldog Paph John Hainsworth blooming size orchid
If you like big red bulldog paphs, this one is for you. And it's relatively new, first registered in 2009.
The breeding is Paph. Washington Creek 'Mt. St. Helens' x Paph. John Hanes 'Oceana.'
The photos show two selected cultivars from the original grex. This is a remake aimed at getting a really superb all-red complex.
We love bulldogs for their husky size and intense color saturation. One of the original batch was awarded an AM and had a natural spread of 11.5 cm, or about 4.5 inches, and was nearly as long.
These are freshly repotted in tall 4-inch pots, with a leaf span of about 12 inches or so. We think they have reached blooming size, which we define as likely to flower within 12 months or so. Actually, we think you'll see flowers next fall or winter, but hey, it's an orchid so it has a mind of its own.
Please, do not purchase if your nightly lows are below freezing. Wait for warmer weather.
Not in flower now.

About Shipping
We ship USPS Priority Mail or First Class Mail
We  guarantee customer satisfaction on delivery.
If there's a problem, please contact us before leaving feedback.
We'll work it out with you, up to a full refund.
When you shop with The Orchid Gallery, you get:
The benefit of our 40 years experience with orchids
Our customer satisfaction uarantee
Our friendly customer service
The chance to ask questions and get free advice
A care sheet with almost every orchid, filled with growing tips
A quality plant, packed by professionals
A tracking number for every order