Psychopsis (Oncidium) Mendenhall FCC/AOS orchid seedling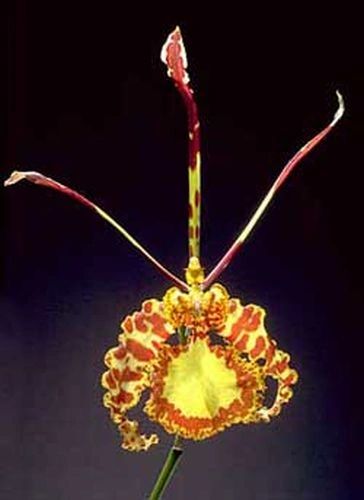 Psychopsis (Oncidium) Mendenhall FCC/AOS orchid seedling
Native to northern South America, Central America and Trinidad, these orchids are noted for producing rather odd looking flowers that some folks call The Butterfly Orchid
We have a bunch of seedlings of the 'Hildos' FCC/AOS cultivar, awarded in 2004.
The judges had this to say about the flowers: "Two flowers of excellent shape on two long inflorescences borne on a well-grown plant with leaves of heavy substance; flowers large, well-presented, unusually flat; dorsal sepal and petals green, heavily overlaid with bold mahogany blotches; lateralsepals pleasantly undulated, yellow, heavily blotched burnt sienna; lip midlobe yellow proximally banded with 1-cm-wide, burnt-sienna ring, crest yellow with burnt-sienna lateral stripes; column off white with mahogany-wine ciliaon wings; substance firm; texture sparkling.

Flowers are about 2 inches wide and about 5 inches tall. The breeding is Psychopsis Butterfly x Psychopsis papilio.
These like dappled light to bright shade, and relatively warm temps. Good air movement helps. Do not allow to dry out completely and repot annually. Probably NOT the best orchid for beginners, but worth a try if you have even a little experience.

These seedlings are freshly repotted in 3-inch pots. We always ship the largest. Probably 2 to 3 years from first blooming, but a blooming plant at an orchid show would run $50 or more, so it's worth the time to grow it up.

Not in flower now.

You can buy with confidence. We guarantee customer satisfaction upon delivery.
About Shipping
When you shop with The Orchid Gallery, you get:

A tracking number for every order
A quality plant, packed by professionals
A care sheet with almost every orchid, filled with growing tips
The chance to ask questions and get free advice
Our friendly customer service
Our customer satisfaction guarantee
The benefit of our 40 years experience with orchids
We  guarantee customer satisfaction on delivery.
We ship USPS Priority Mail or First Class Mail