Save $10.00 Blooming size, Pot. (Cattleya) Hawaiian Prominence 'America' AM/AOS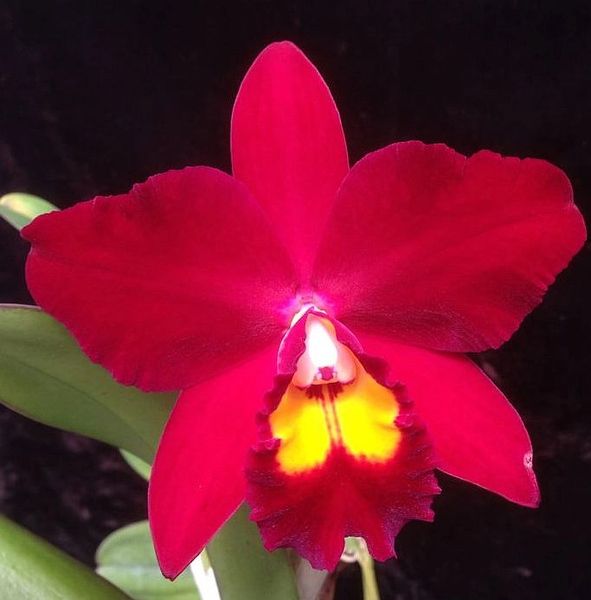 Save $10.00 Blooming size, Pot. (Cattleya) Hawaiian Prominence 'America' AM/AOS
We have just repotted these so you won't have to do that for a year or more. Some have sheaths but we haven't seen bud shadows yet. They could bloom in those sheaths or wait until the next growth. Whatever the case these are a great value for a spectacular red cattleya. And a plus for these compact Catts, happy plants can bloom twice a year. 
The 'America' clone produces lovely, large, red flowers (four inches across or more) with brilliant yellow and darker red on the lip.
Really pretty. Spicy fragrance, but we have learned from experience that your nose may vary.

The breeding Rlc. Hisako Akatsuka x C. Wendy's Redstone. These are mericlones of the 'America' cultivar. 
Cattleyas like these are easy to grow, and very rewarding.  Good plants for beginners. We include free growing instructions. You pretty much can't go wrong. 

About Shipping
We ship USPS Priority Mail or UPS.
We  guarantee customer satisfaction on delivery.
If there's a problem, please contact us.
We'll work it out with you.
When you shop with The Orchid Gallery, you get:
The benefit of our 40 years experience with orchids
Our customer satisfaction guarantee
Our friendly customer service
The chance to ask questions and get free advice
A care sheet with almost every orchid, filled with growing tips
A quality plant, packed by professionals
A tracking number for every order friendly, personalized service. Our grower inspects every plant we ship.