Phragmipedium Humboltii Blooming size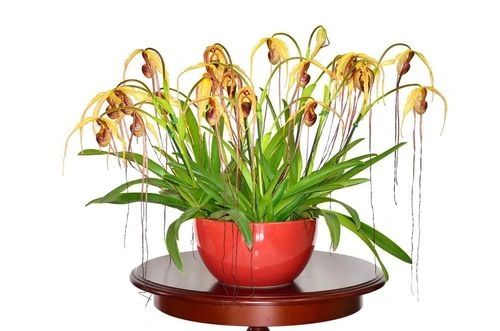 Phragmipedium Humboltii Blooming size
Phrag. nomenclature is still a bit confusing. If you call this humboltii or warscewiczianum or some varity of caudatum, the plant is a must have for slipper lovers. The petals can be as much as 3 feet long. While a single flower is spectacular, a specimen plant in full bloom is to die for.
These are fabulously-colored, long petaled multi-floral Phrags. They just came in and they are too good not to share.
They have multiple growths and have been freshly potted into 4 1/2 inch pots so you don't have to worry about that chore for a while.
They are blooming size and could put up a spike at any time.
We ship via USPS Priority mail or UPS.
We  guarantee customer satisfaction on delivery.
If there's a problem, please contact us before leaving feedback.

We may delay shipping if it's too cold where you are.
When you shop with The Orchid Gallery, you get:
The benefit of our 40 years experience with orchids
Our customer satisfaction guarantee.
Our friendly customer service.
The chance to ask questions and get free advice.
A care sheet with almost every orchid, filled with growing tips.
A quality plant, packed by professionals.
A tracking number for every order.