Phragmipedium Aker's Fu Manchu, blooming size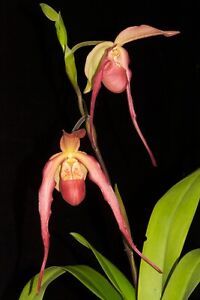 Phragmipedium Aker's Fu Manchu, blooming size
I'm a sucker for long petaled orange/red/pink Phrags. This one gets my juices flowing. The breeding is Twilight X humboldtii. These are fast growers and reliable bloomers. These are a hybrid of a sequential bloomer with a multifloral. So after the first blush of 3 or 4 blooms you may well get another couple of flowers.
These are blooming size and should bloom this winter or spring. They have leaf spans of ~ 24 inches. The bad news is that we only have 8 of these for sale. But if you miss out we just listed a marvelous Paph. rothschildianum and a new batch of Wils. Firecat 'King Snake'. And there is a bunch of other interesting plants on our website.
We ship via USPS Priority mail or UPS.

We  guarantee customer satisfaction on delivery.
If there's a problem, please contact us before leaving feedback.
We'll work it out with you, up to a full refund.
We may delay shipping if it's too cold where you are.
When you shop with The Orchid Gallery, you get:
The benefit of our 40 years experience with orchids
Our customer satisfaction guarantee.
Our friendly customer service.
The chance to ask questions and get free advice.
A care sheet with almost every orchid, filled with growing tips.
A quality plant, packed by professionals.
A tracking number for every order.