Paph wardii species orchid, blooming size, simply charming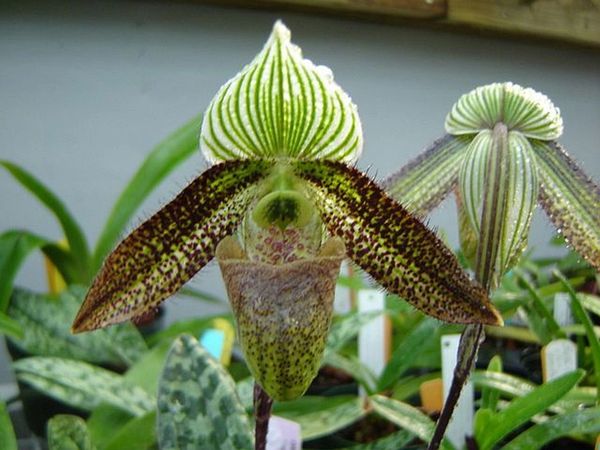 Paph wardii species orchid, blooming size, simply charming
NOT in flower now, recently finished flowering

These can be very hard to find.

Paph wardii is one of our favorite species, and one look at the picture of the flower tells you why -- wonderful color, stripes, spots, everything we love.

This one is native to southwest China and northern Burma. They are somewhat hard to find.

Here is how the judges described one award winner: "One deeply colored, well-formed, lustrous flower borne on one 20-cm inflorescence; dorsal sepal cream-colored, boldly striped green, linearly arranged mahogany stripes basally; nearly horizontal petals cream-colored completely overlaid with dark mahogany spots, margins ciliate; pouch light green, dark mahogany veins nearly totally suffused anteriorly; staminode olive green; substance good; texture glossy."
 The ones we have are first-time bloomers.

These are in 3.5 inch pots -- We will ship freshly repotted.
 
These are easy to grow -- relatively low light, keep from drying out completely, fertilize weakly (3-3-3) every three or four weeks.

The first picture shows a typical flower; the second shot is the kind of plant you are purchasing. In bud now.

We have a bunch of these and we'll pick out a nice one for you.

 And we include free growing instructions.

You can buy with confidence.

We guarantee customer satisfaction on delivery.