Near Blooming size, Paph rothschildianum species orchid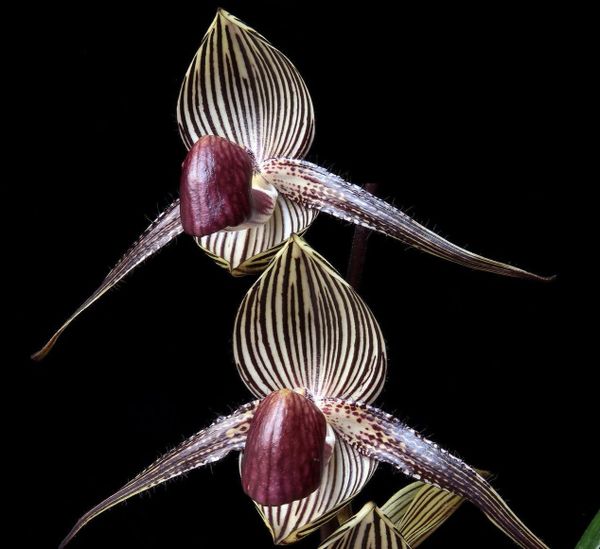 Near Blooming size, Paph rothschildianum species orchid
One of the kings of the orchid world. A multi-floral species. These can produce 4 or 5, 12 inch wide flowers on a 3 foot tall spike. 

Native to Northern Borneo. Plants in the wild were found in only two places on the lower slopes of Mt. Kinabalu.
A must-have for any serious lover of paphs. Much awarded and much hybridized.

The judges had this to say about one of the award winners: "Four large, stately flowers ... sepals chartreuse, clearly defined stripes dark chestnut brown; petals chartreuse, proximal one-third spotted and barred dark chestnut brown, distal two-thirds coalesced to stripes; pouch dark chestnut brown anteriorly and along sides; substance good; texture satiny." The natural spread was 30 cm.
This came to us in a large wholesale order from a reputable breeder. Sorry, we don't know the exact parents.
These have a single growth with a 12+ inch leaf span in a 5 inch pot. These should bloom next spring. They are well worth the wait. 

Could sell for $200+ if in flower at an orchid show.

About Shipping
We ship USPS Priority Mail

We  guarantee customer satisfaction on delivery.
If there's a problem, please contact us before leaving feedback.
We'll work it out with you, up to a full refund.
We may delay shipping if it's too cold where you are.
When you shop with The Orchid Gallery, you get:
The benefit of our 40 years experience with orchids.
Our customer satisfaction guarantee.
Our friendly customer service.
The chance to ask questions and get free advice.
A care sheet with almost every orchid, filled with growing tips.
A quality plant, packed by professionals.
A tracking number for every order.
FYI:

We define blooming size as likely to flower within 12 months or so if properly grown.
We define near blooming size as likely to flower within 18 to 24 months or so.
We define seedlings as likely to flower within 24 to 36 months.
In bud means you can expect to see flowers in 3 to 6 weeks or so.