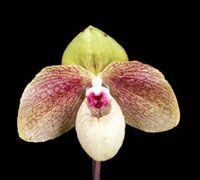 Paph. Ma Belle
Big flower on a small plant. These are blooming size with leaf spans of 4 inches or a little more. You can see one in bud in the lower left of the plant photo. These have been grown from seed so there may be variation in the flowers. 
Ma Belle is one of those hard to find exotics that add diversity and intrigue to your Paph. collection. Grow in a warm environment, with moderate light and don't keep them sopping wet but water when try are starting to feel dry.  


About Shipping:
If you live where temperatures are cold it is wise to buy a heat pack. They are available at checkout.
We ship via USPS Priority mail or UPS.
We  guarantee customer satisfaction on delivery.
If there's a problem, please contact us before leaving feedback.
We may delay shipping if it's too cold where you are.

When you shop with The Orchid Gallery, you get:
The benefit of our 40 years experience with orchids
Our customer satisfaction guarantee.
Our friendly customer service.

The chance to ask questions and get free advice.
A care sheet with almost every orchid, filled with growing tips.
A quality plant, packed by professionals.
A tracking number for every order.