Paph Lynleigh Koopowitz ladyslipper orchid blooming size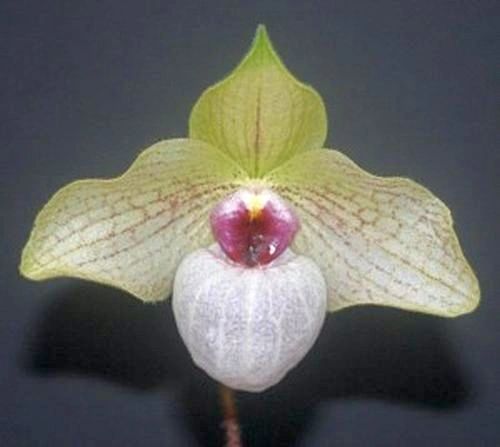 Paph Lynleigh Koopowitz ladyslipper orchid blooming size
Easy to grow, instructions included

Will produce beautiful flowers

Blooming size but NOT in flower now


Great windowsill plant
This orchid is just a wonderful example of what hybridizing can produce.

It's a cross between the charming Vietnamese species delenatii and the wonderful malipoense species orchid found in China. The combination produces one of the loveliest of the primary hybrids.
The large-ish flowers range from light green to white, and they are striped in dark red. They are produced one or two to a stem that often stretches out 18 inches tall or more. The dark "raspberry jam" staminode is very striking, too. The dorsals often have a more greenish cast, from the malipoense parent.

Lynleigh Koopowitz is also one of the few fragrant paphs, and some people have described the light fragrance as being like raspberries and cream. The foliage is beautifully patterned, too.
These have a leafspan of 8 to 10 inches. Bloomed out for this season, but will flower again next cycle. This is a quality orchid that will give you very rewarding flowers. They are easy to grow and you can care for them in the house. Just provide relatively low light, water several times a week, and fertilize weakly every couple of weeks. Repot after every blooming.
We'll pick out a nice one for you.

You can buy with confidence. We guarantee customer satisfaction upon delivery.
About Shipping
When you shop with The Orchid Gallery, you get:

A tracking number for every order
A quality plant, packed by professionals
A care sheet with almost every orchid, filled with growing tips
The chance to ask questions and get free advice
Our friendly customer service
Our customer satisfaction guarantee
The benefit of our 40 years experience with orchids
We  guarantee customer satisfaction on delivery.
We ship USPS Priority Mail or First Class Mail