In spike now, Oncidium Twinkle 'Pink Profusion'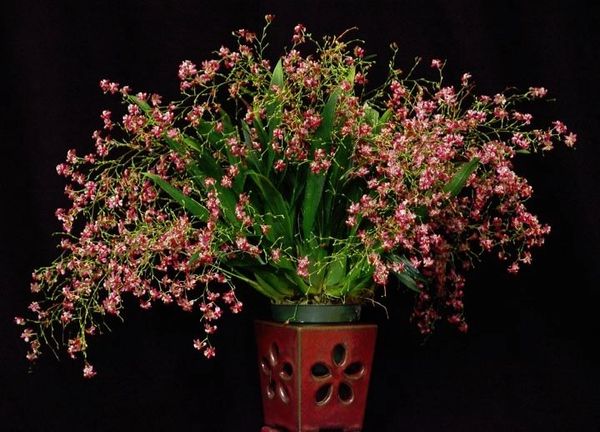 In spike now, Oncidium Twinkle 'Pink Profusion'
This one is Oncidium Twinkle 'Pink Profusion',  a miniature, great for windowsill growers.
These are mericlone blooming for the first time and many have 2 or more spikes. They grow very fast if properly cared for and can bloom twice a year.

The breeding on Twinkle is Oncidium cheirophorum x Oncidium sotoanum. The flowers often have a light, floral fragrance. The flowers are small but just delightful. Mature plants can put out hundreds of flowers at once.
These are easy to grow -- in fact one of the easiest orchids around. Medium light and water are best, fertilize very weakly twice a month. Great for beginners.
You are buying one plant in a 3-inch pot, like the one in the second picture. Repot after the flowers fade away.

Provide bright indirect light and a temperature range of 60 to 85 degrees. Allow to get almost dry, but not quite, between waterings. Do not allow to dry out completely. Makes a great house plant.


You can buy with confidence. We guarantee customer satisfaction on arrival.
We ship USPS or UPS usually within 1 or 2 business days.
We  guarantee customer satisfaction on delivery.
If there's a problem, please contact us.
We want you happy and successful.
When you shop with The Orchid Gallery, you get:
The benefit of our 50 years experience with orchids
Our customer satisfaction guarantee.
The chance to ask questions and get free advice.
Our friendly customer service. A care sheet with almost every orchid, filled with growing tips.
A quality plant, packed by professionals.
A tracking number for every order.