Oncidium Twinkle 'Pink Profusion' orchid seedling a miniature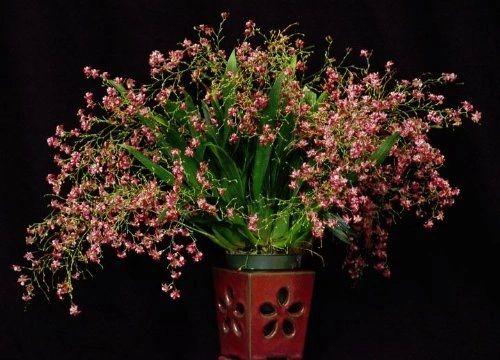 Oncidium Twinkle 'Pink Profusion' orchid seedling a miniature
Free Shipping

Easy to grow, instructions included

Will produce beautiful flowers

Great windowsill plant
This one is Oncidium Twinkle 'Pink Profusion,' an easy to grow orchid seedling. Anybody can grow these orchids successfully, and once they reach maturity, they can produce just clouds of little pink flowers. Some award winners have had almost 500 flowers open at once.

This one is a really nice mericlone of an exceptional plant.

The breeding is Oncidium cheirophorum x Oncidium ornithorhynchum. We have a number of these and we'll pick out a nice one for you. We always ship the largest.

The picture shows the kind of flowers to expect, and some of the plants in our greenhouse. We will ship in the pot.

Medium light and water are best, fertilize weakly twice a month. Water when almost dry, but don't allow to dry out completely. You can buy with confidence. If you are not happy with what you receive, simply return it within 14 days and we will provide a full refund.