In Spike Now! Oncidium Aka Baby 'Raspberry Chocolate' fragrant orchid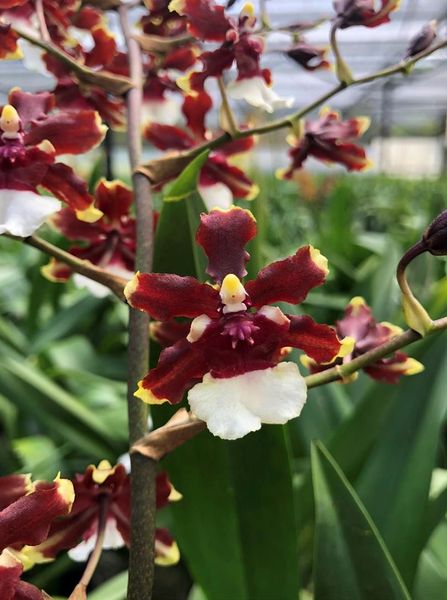 In Spike Now! Oncidium Aka Baby 'Raspberry Chocolate' fragrant orchid
Please note: for folks in the north, shipping may be delayed until temperatures moderate to where daytime is above freezing and nights are not bitter.
Like Sharry Baby on steroids. The plants produce chunkier flowers with more substance. 
And fragrance. Overlaying rich chocolate is a touch of fresh raspberries. What's not to love?
Unfortunately there is some minor leaf damage on a few of the leaves. It can be trimmed or left. You're choice. But that is why we are offering these at $10.00 of the regular price
These will open in 4 to 5 weeks And you will have flowers and this wonderful fragrance for spring.
Growing instructions included.
Good plant for beginners
Tall branching spikes with multiple flowers that have a sweet scent of chocolate with a hint of raspberry. Grow in intermediate to warm temperatures, medium light levels and fertilize weakly twice a month. The flowers last 2+ months and this plant has the nice habit of flowering twice per year.
Oncidium hybrids make great gifts for yourself or a loved one as they are low maintenance orchids with long-lasting flowers.

These are wonderful large plants. The breeding is Oncidium Jimbo x Oncidium Sharry Baby.
You can buy with confidence. We guarantee customer satisfaction on arrival.
About Shipping
We ship USPS Priority Mail or First Class Mail
We  guarantee customer satisfaction on delivery.
If there's a problem, please contact us before leaving feedback.
We'll work it out with you. 

When you shop with The Orchid Gallery, you get:
The benefit of our 40 years experience with orchids
Our customer satisfaction guarantee
Our friendly customer service
The chance to ask questions and get free advice
A care sheet with almost every orchid, filled with growing tips
A quality plant, packed by professionals
A tracking number for every order