Onc. Sweet Sugar, famous Dancing Lady orchid in spike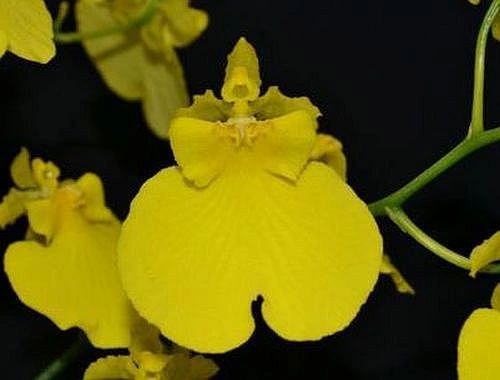 Onc. Sweet Sugar, famous Dancing Lady orchid in spike
Free Shipping

Easy to grow, instructions included

Will produce beautiful flowers

Great windowsill plant

In spike now
This one is great for beginners, very easy to grow and bloom.
It will dazzle you when it blooms, throwing out a spray of lovely yellow flowers that look a little like Cinderella in her ball gown. Mature plants can put out multiple spikes. This is the 'Lemon Drop' cultivar. The flowers come out nearly all yellow, absent the mahogany you see in some dancing ladies.
If you've always wanted to grow orchids, or you want to go "beyond the supermarket phalaenopsis," this is a good plant to start a collection. It's easy to grow and easy to bloom, so it's great for beginners. And it makes a great gift for someone new to the hobby.

The breeding is Oncidesa Aloha Iwanaga x Gomesa varicosa.

Mature plants can have dozens of flowers per bloom spike and one of the awarded ones had 148 flowers open at once.
Spectacular!
These plants stand 10 inches high or more measured from the bottom of the pot. In spike now. They're easy to grow, too. Medium light and water are best, fertilize weakly twice a month.
We have a bunch of these and we'll pick out a nice one for you. You can buy with confidence. We guarantee safe arrival. We will ship in the pot.
At The Orchid Gallery, we offer quality plants and friendly, personalized service. Our grower inspects every plant we ship. And we include free growing instructions.