Nicely started Mps. Prelapsarian 'Stefanie' orchid seedling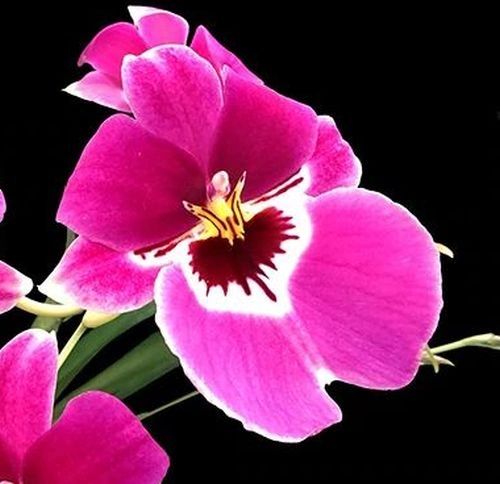 Nicely started Mps. Prelapsarian 'Stefanie' orchid seedling
This one is Miltoniopsis Prelapsarian, a pansy orchid that will put out beautiful red-pink flowers, with a darker red lip, blending into a little yellow in the center.

These are seedlings, likely to flower within 24 months or so. NOT in flower now. They are medium to large seedlings, nearly a foot high, and we always ship the largest. Fast growers.

The breeding on this mericlone is Miltoniopsis Paradise Park x Miltoniopsis Woodlands.

These orchids are freshly repotted in 3-inch pots. We have a bunch of these and we'll pick out a nice one for you.

A mature plant in bloom would cost $40 to $50 at an orchid show, so be patient, grow this up and voila!

Prelapsarian is a word that means of, or relating to, the period before the fall of Adam and Eve, ie, innocence.

Miltoniopsis orchids are cool growers. Often called "The Pansy Orchid," many of them have a wonderful fresh fragrance. For home and hobby growers, we recommend them as a house plant. Just give them moderate indirect light, water thoroughly three times a week, fertilize weakly every two weeks. Provide a temperature range of 60 to 75 degrees or so. Good air movement helps. These do very well under lights.

We include free growing instructions.

We ship Priority Mail, anywhere in the U.S or its territories. We guarantee customer satisfaction on arrival.

SORRY, no shipping into areas where the daytime highs are below freezing.
About Shipping

We ship USPS Priority Mail.

We  guarantee customer satisfaction on delivery.

When you shop with The Orchid Gallery, you get:
The benefit of our 40 years experience with orchids
Our customer satisfaction guarantee
Our friendly customer service
The chance to ask questions and get free advice
A care sheet with almost every orchid, filled with growing tips
A quality plant, packed by professionals
A tracking number for every order.