Nepenthes St. Gaya. Red pitchers on fast growing plants. 3 inch pots shipping included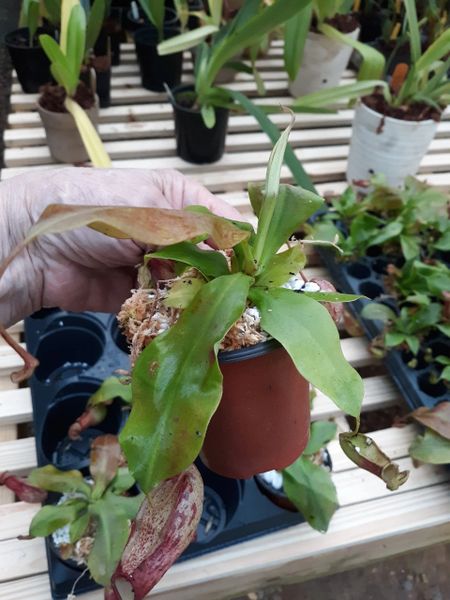 Nepenthes St. Gaya. Red pitchers on fast growing plants. 3 inch pots shipping included
These are fast growing pitcher plants, Nepenthes St. Gaya in 3 inch pots. They like bright indirect light and and to stay moist. In very bright light the leave will pick up a reddish tone like the pitchers, but don't over do it. They make impressive hanging basket or pedestal plants. Eventually the can reach a 12 to 18 inch spread or more with many 6 inch hooded pitchers. They do not like a lot of fertilizer so don't use one of those self-feeding potting mixes. We are using a combination of sphagnums moss and perlite. 
We have a bunch of these and will pick a nice one for you.
We ship USPS or UPS usually within 1 or 2 business days.
We  guarantee customer satisfaction on delivery.
If there's a problem, please contact us.
We want you happy and successful.
When you shop with The Orchid Gallery, you get:
The benefit of our 50 years experience with orchids
Our customer satisfaction guarantee.
The chance to ask questions and get free advice.
Our friendly customer service. A care sheet with almost every orchid, filled with growing tips.
A quality plant, packed by professionals.
A tracking number for every order.