Neofinetia falcata, the Japanese Warrior orchid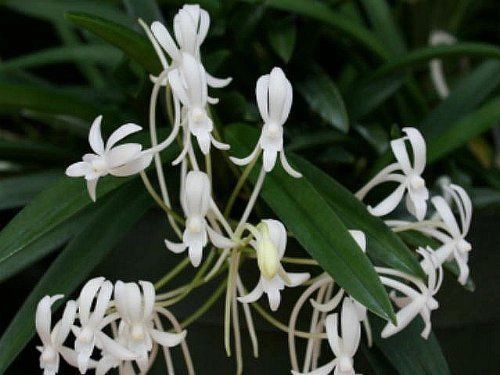 Neofinetia falcata, the Japanese Warrior orchid
FREE SHIPPING

In small basketx, These are not in bud or flower. They are spring to summer bloomers.
VERY tropical; no shipping into subfreezing cold.

A member of the Vanda Alliance, this Japanese Wind Orchid is a true miniature that is a fairly easy grower for those who like interesting flowers but are short on space. 
Each inflorescence bears three to six or more white to blush flowers that are about an inch or so across. They are usually very fragrant, especially at night. These are monopodial, with alternating leaves and they tend to bloom in late summer or early fall.

Neofinetia can do very well under lights. These are blooming size, 2.5 inch hanging baskets as shown.

Be prepared to water at least every other day. They are generally considered to require intermediate temperatures. No direct sunlight, but dappled light is OK.

This species has been cultivated by the Japanese warrior class for centuries. At one time anyone who was not a member of the elite samurai class was forbidden to possess a specimen of the plant.

This species is native to Japan, Korea and parts of China. They are NOT in flower now. The leaves are 3 to 4 inches long. 

Some have bloomed already at least once. We have a number of them and we'll pick out a nice one for you. We always ship the largest.

If you could find one of these in bloom at an orchid show, it would probably sell for something north of $45.

We ship USPS Priority Mail or UPS depending on which promises the most prompt service to your address .


When you shop with The Orchid Gallery, you get:


Our customer satisfaction guarantee
Our friendly customer service
The chance to ask questions and get free advice
A care sheet with almost every orchid, filled with growing tips
A quality plant, packed by professionals
A tracking number for every order
The benefit of our 40 years experience with orchids