Near blooming size Brassavola nodosa, Lady of the Night Orchid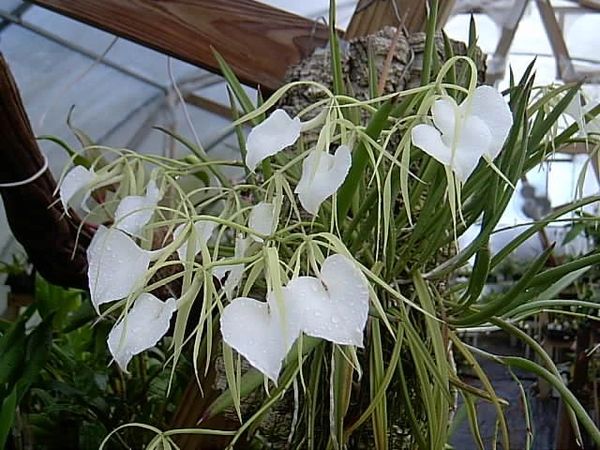 Near blooming size Brassavola nodosa, Lady of the Night Orchid
Free growing instructions

Near blooming size but NOT in flower now


Will produce lovely flowers
This is a near blooming size Brassavola nodosa species orchid that will produce heart-shaped white flowers that are incredibly fragrant. But the fragrance is produced only at night – hence the nickname, 'Lady of the Night.' We think they smell a little like Chanel No. 5 -- heady!
These are freshly repotted in three-inch pots. We expect you'll see flowers inside 12 months if properly grown.
A large plant can have dozens of flowers all over it. The one pictured is our keeper nodosa.

We have had great success mounting these on cork or wood. Water more frequently if mounted. These are native to
Mexico, Central America, Colombia, and Venezuela.
We always ship the largest and we'll pick out a nice healthy one for you.

Comes with free growing instructions. Good beginner plant. Can take some abuse.


About Shipping
We ship USPS Priority Mail or First Class Mail
We  guarantee customer satisfaction on delivery.
If there's a problem, please contact us before leaving feedback.
We'll work it out with you, up to a full refund.
When you shop with The Orchid Gallery, you get:
The benefit of our 40 years experience with orchids
Our customer satisfaction guarantee
Our friendly customer service
The chance to ask questions and get free advice
A care sheet with almost every orchid, filled with growing tips
A quality plant, packed by professionals
A tracking number for every order