Murano Glass Millefiori Dangle Earrings - 3 fused glass floral beads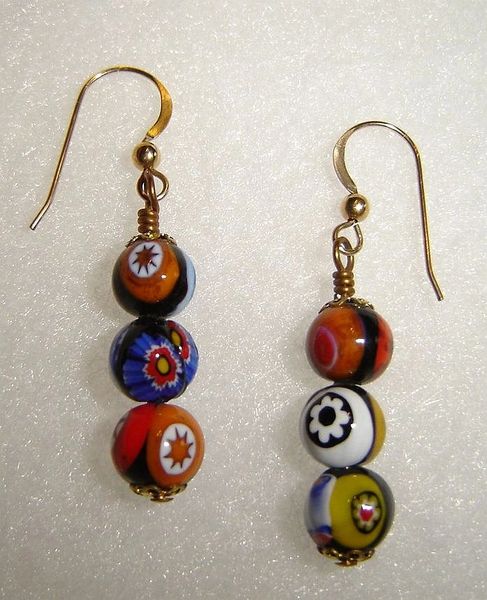 Murano Glass Millefiori Dangle Earrings - 3 fused glass floral beads
We love these Murano glass earrings, imported from Italy. So versatile!

Genuine millefiore (thousand flowers). One of a kind. Each glass bead is crafted by hand. Each bead is different.
These earrings measure 1 and 3/4 inches from top to bottom. The metal is a hypoallergenic alloy.

Wear with anything.
You get the earrings pictured. They come in a nice gift box.
Free returns if not satisfied.
Venetian glass has been made for over 1,500 years, and production has been concentrated on the Venetian island of Murano since the 13th century. Today Murano is known for its art glass, including jewelry, but it has a long history of innovations in glassmaking in addition to its artistic fame—and was Europe's first major glassmaking center.
Murano glass is created only on the island of Murano, located within the borders of the city of Venice in Northern Italy. This glass is made from silica, soda, lime and potassium melted together in a special furnace at a temperature of 1500°C to reach a liquid state.

The basis of this technique is the use of glass canes (rods) which contain a single flower design visible only on the surface of cross sections of the cane. The object is then formed using the cross-sections of multiple such rods, which are melted together to cover the surface of the glass object. This technique was first used in Egypt between the third and the first century B.C.