Miltoniopsis Maui Mist orchid in spike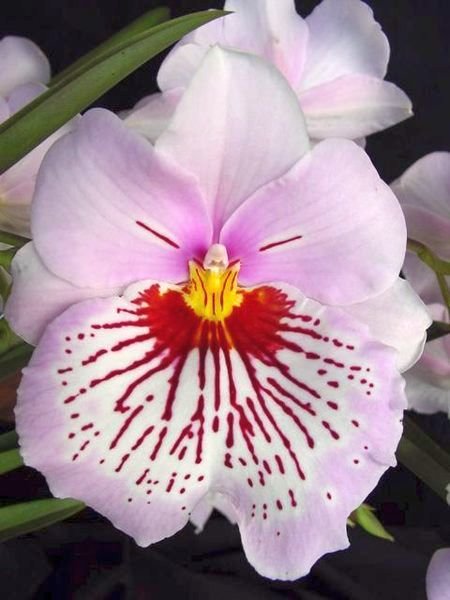 Miltoniopsis Maui Mist orchid in spike
Easy to grow, instructions included
Will produce beautiful flowers
Also called the pansy orchid
FREE shipping

IN SPIKE NOW

This is Miltoniopsis Maui Mist, a beautiful orchid. It will put out stunning flowers with a waterfall lip.

These are large plants with multiple pseudobulbs. The flowers should last 4 to 5 weeks if cared for properly. The breeding on this mericlone is Miltoniopsis Gascogne x Miltoniopsis Martin Orenstein. Most should be pink, but you might see a slightly darker shade, depending on the light as it opens.

These orchids are in 4-inch pots and they tend to be spring and fall bloomers. They currently stand 15 inches high or more measured from the bottom of the pot. We have a bunch of these and we will pick out a nice one for you. We always ship the largest. In spike now. Do not repot until the flowers have come and gone.

Miltoniopsis orchids are cool growers. Often called The Pansy Orchid, many of them have a wonderful fresh fragrance. For home and hobby growers, we recommend them as a house plant. Just give them moderate indirect light, water thoroughly three times a week, fertilize weakly every two weeks. Provide a temperature range of 60 to 75 degrees or so. These do very well under lights. We include free growing instructions.

One of these in bloom at an orchid show would sell for $40 to $50 or more, so be patient, and enjoy the blooms when it flowers. These are potted in sphagnum moss, we recommend repotting after the last flower fades away.
About Shipping
We ship USPS Priority Mail or First Class Mail
We guarantee customer satisfaction on delivery.
If there's a problem, please contact us before leaving feedback.
We'll work it out with you, up to a full refund.
When you shop with The Orchid Gallery, you get:
The benefit of our 40 years experience with orchids
Our customer satisfaction guarantee
Our friendly customer service
The chance to ask questions and get free advice
A care sheet with almost every orchid, filled with growing tips
A quality plant, packed by professionals
A tracking number for every order