Beautiful Miltoniopsis Hajime Ono blooming size orchid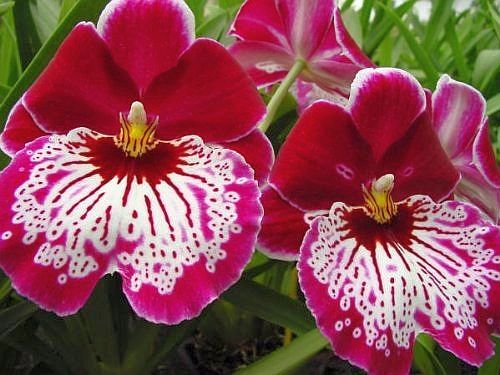 Beautiful Miltoniopsis Hajime Ono blooming size orchid
Free Shipping

Easy to grow, instructions included

Will produce beautiful flowers

Great windowsill plant

Large, Blooming size, but NOT in flower now
These blooming size orchids are the result of a seed cross, so they should all look a little different, but along the lines of the flowers pictured 
-- that is to say, awesome!
The breeding is Mps Martin Orenstein x Mps Pearl Ono.
The judges had this to say about one recent award winner: "Fifteen full, round flowers well spaced on three inflorescences; sepals and petals velvety burgundy red with white margins, more pronounced on sepals; lip velvety burgundy with consistent waterfall pattern nearly to edges; mask deep velvety red withred and gold callus; column white; substance heavy; texture crystalline."
We have a bunch of these and we'll pick out a nice one for you. They came in to us as part of a large wholesale order, and they are rather overgrown, and in need of repotting. However, we recommend that you NOT repot, as we think these are likely to spike up this spring and give you spectacular flowers. We can't guarantee that. But we do know if you repot now, the shock to the system will mean they likely will not spike for a year.
These orchids stand about 15 to 18 inches high measured from the bottom of the 4-inch pot.
Miltoniopsis orchids are cool growers. Often called "The Pansy Orchid," many of them have a wonderful fresh fragrance. For home and hobby growers, we recommend them as a house plant. Just give them moderate indirect light, water thoroughly three times a week, fertilize weakly every two weeks. Provide a temperature range of 60 to 75 degrees or so. Good air movement helps. These do very well under lights. You can buy with confidence. We guarantee customer satisfaction upon delivery.
At The Orchid Gallery, we offer quality plants and friendly, personalized service. Our grower inspects every plant we ship.
About Shipping
We ship USPS Priority Mail or First Class Mail
You get:
A tracking number for every order
A quality plant, packed by professionals
A care sheet with almost every orchid, filled with growing tips
The chance to ask questions and get free advice
Our friendly customer service
Our customer satisfaction guarantee
The benefit of our 40 years experience with orchids