Miltonidium Melissa Brianne 'Dark' orchid nice seedling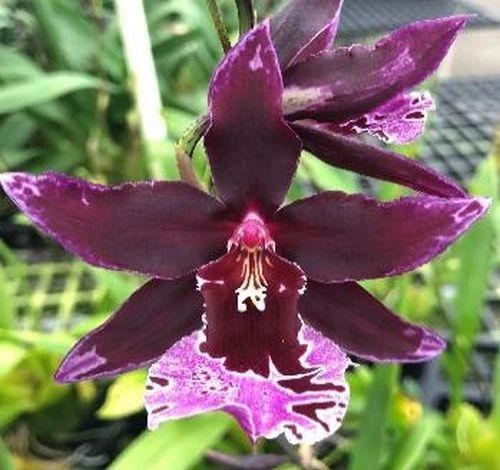 Miltonidium Melissa Brianne 'Dark' orchid nice seedling
FREE Shipping

These produce lovely flowers, and mature plants produce lots and lots of them. One award winner had 16 flowers and 6 buds on four spikes.
The ones offered here are nice seedlings, freshly repotted in 3-inch pots. Probably two years or so from first flowering, but well worth the wait. They go for $50 to $60 in full bloom.

Grow these slightly on the cool side, as the breeding is Miltonia Anne Warne x Oncidium Mrs. Rudolf Pabst, and the miltonia is a bit of a cool grower. They will do fine as house plants, you don't need a greenhouse to grow these.
These are clones of one that produced exceptionally dark purple flowers, hence the clonal name. No awards yet, as far as we know, but honors are possible. 

About Shipping
We ship USPS Priority Mail or First Class Mail
We  guarantee customer satisfaction on delivery.
We'll work it out with you, up to a full refund.
When you shop with The Orchid Gallery, you get:
The benefit of our 40 years experience with orchids
Our customer satisfaction guarantee
Our friendly customer service
The chance to ask questions and get free advice
A care sheet with almost every orchid, filled with growing tips
A quality plant, packed by professionals
A tracking number for every order