In Spike Now, Vuylstekeara Melissa Brianne 'Dark'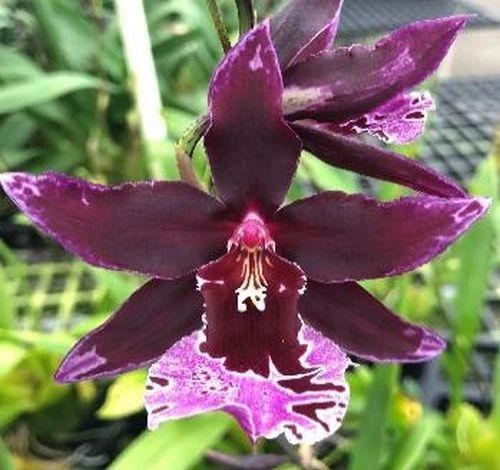 In Spike Now, Vuylstekeara Melissa Brianne 'Dark'
FREE Shipping

These are first bloom mericlones in 2 inch pots and the plants are 12 or so inches tall. They have some of the darkest, red flowers around. Expect 4 to 6 flowers around 2 1/2  to 3 inches wide in 2 to 3 weeks. Once mature the plants produce lots of flowers on multiple spikes.  One award winner had 16 flowers and 6 buds on four spikes.
They grow quickly and  can bloom twice a year when happy. They are intermediate growers, that means temperatures from 60 to 80. They don't want to be outside in Texas in the summer. They make great houseplants. Moderately bright light with maybe a touch of early morning sun, but no direct mid-day sun is best.  Don't let them get completely dry and fertilize with a dilute balanced fertilizer every 2 to 3 weeks.  They are ready to move into larger pots when they are finished blooming.
About Shipping
We ship USPS Priority Mail or UPS. Usually within 1 to 2 business days. 
We  guarantee customer satisfaction on delivery.
If there is a problem contact us.
We'll work it out with you.
When you shop with The Orchid Gallery, you get:
The benefit of our 40 years experience with orchids
Our customer satisfaction guarantee
Our friendly customer service
The chance to ask questions and get free advice
A care sheet with almost every orchid, filled with growing tips
A quality plant, packed by professionals
A tracking number for every order