Just repotted! Miltassia Shelob 'Tolkien' seedlings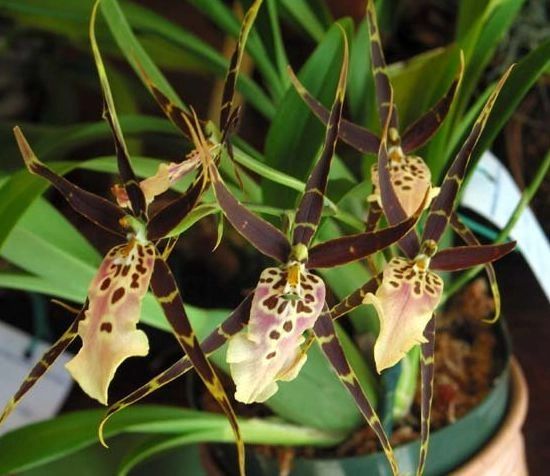 Just repotted! Miltassia Shelob 'Tolkien' seedlings
Free Shipping

Easy to grow, instructions included

Will produce beautiful flowers

Great windowsill plant

Large seedlings, but NOT in flower now
This kind of plant always gets oohs and ahs at our shows, and it makes a nice addition to any orchid collection.
It's a really nice mericlone of an AM-awarded orchid. The breeding is Mtssa Olmec x Brs Edvah Loo.
The flowers are large, spidery and gorgeous, approximately four to five inches from top to bottom. The color is mahogany and pink, with interesting olive green bands. The lip has beautiful pink tones.
Mature plants can have multiple spikes, with 6 to 8 flowers on each spike.
These are seedlings with one or two pseudobulbs. They are freshly repotted into 3 inch pots. The longest leaves are 6 to 7 inches and we always ship the largest.
These are likely to flower within 12 to 18 months or so. Please note that this orchid is not in flower now. We have a number of these and we'll pick out a nice one for you. We always ship the largest.
The picture shows the kind of flowers to expect. We will ship in the pot. Medium light and water are best, fertilize weakly twice a month.
We guarantee customer satisfaction on arrival.