Nicely started Miltassia Charles M Fitch AM/AOS seedling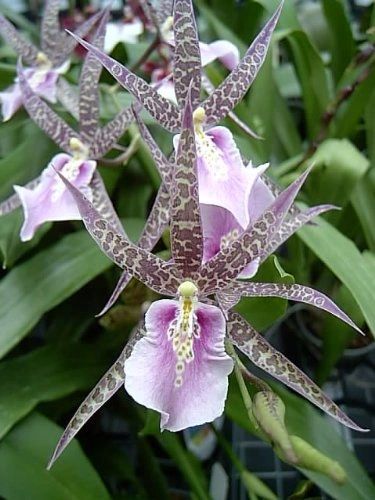 Nicely started Miltassia Charles M Fitch AM/AOS seedling
Free Shipping

Easy to grow, instructions included

Will produce beautiful flowers

Great windowsill plant

Seedling, NOT in flower now
This one is Miltassia Charles M Fitch 'Izumi' AM/AOS.

A member of the oncidium family, this orchid (Brs varrucosa x Milt spectabilis) blooms twice a year when mature and pretty much grows like the proverbial weed.

The flowers are just amazing -- relatively large, somewhat spidery and simply stunning. The color is a wonderful mottled lavender/purple on the petals and sepals, with a little olive green in the background; the large lip is a stunning lavender with some spots in the center.

These are large seedlings in 3-inch pots. We expect you'll see first flowers in 18 to 24 months.
Mature plants can have 6 to 8 flowers per bloom spike and we have seen some grown up specimens with a dozen or more spikes all at once. Spectacular!
Caution: Please don't ask us to ship anywhere daily high temps are near freezing or below. The are very tropical.

These are easy to grow. Medium light and water are best, fertilize weakly twice a month. We have a bunch of these and we'll pick out a nice one for you. You can buy with confidence. We guarantee customer satisfaction on arrival.