Rare, large flowered, Maxillaria grandifolia, Blooming Size, Shipping Included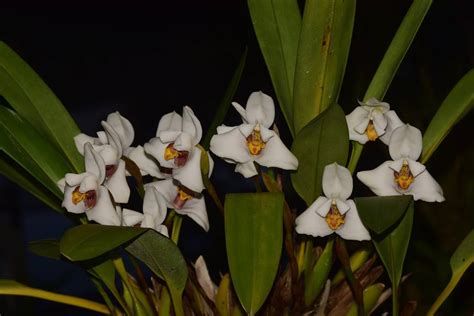 Rare, large flowered, Maxillaria grandifolia, Blooming Size, Shipping Included
Max. grandifolia is one of the largest Maxillarias. The plants are about 2 feet tall. The flowers are presented on upright spikes anywhere from 4 to ten inches tall and the flowers for this genus they are huge up to 4 inches across. They are spring bloomer and prefer intermediate conditions, temps form 60 to 75. They need moderaately bright light and can stand a little early morning sun. They like a lot of water while actively growing and then reduced water during a short rest period. They should be fertilized with a balanced fertilizer every couple of weeks when actively growing and that like the water should be reduced a month or two after the new growth matures. The best of these can be spectacular with a ruby lip and pure white sepals and petals. No guarantees but there is the potential. These are freshly potted in 4 1/2 inch pots.
Several times a year we import plants just to get some unusual things for our customers. This is one of those.  They have good roots and look good. There are a few blemishes on the foliage but this is typical. Usually we wait a couple of months before offering imported plants to make sure they will grow okay, but these look so good we decided to offer them now. 
We ship USPS or UPS usually within 1 or 2 business days.
We  guarantee customer satisfaction on delivery.
If there's a problem, please contact us.
We want you happy and successful.
When you shop with The Orchid Gallery, you get:
The benefit of our 50 years experience with orchids
Our customer satisfaction guarantee.
The chance to ask questions and get free advice.
Our friendly customer service. A care sheet with almost every orchid, filled with growing tips.
A quality plant, packed by professionals.
A tracking number for every order.