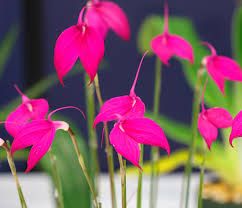 Masdevallia coccinea
Coccinea is the queen of Masdevallias. It produces tall spikes with a large fuchsia flowers that can shade toward red or orange and sometimes pink. 
This species originates in the cloud forests of the Andes Mountains and they prefer temps in the 55 to 75 range. So if you live in Florida, you're going to need AC to grow this one. 
These are blooming size seedling that can throw up a spike at most any time.
We ship via USPS Priority mail or UPS.
We  guarantee customer satisfaction on delivery.
If there's a problem, please contact us before leaving feedback.
We may delay shipping if it's too cold where you are.
When you shop with The Orchid Gallery, you get:
The benefit of our 40 years experience with orchids
Our customer satisfaction guarantee.
Our friendly customer service.
The chance to ask questions and get free advice.
A care sheet with almost every orchid, filled with growing tips.
A quality plant, packed by professionals.
A tracking number for every order.